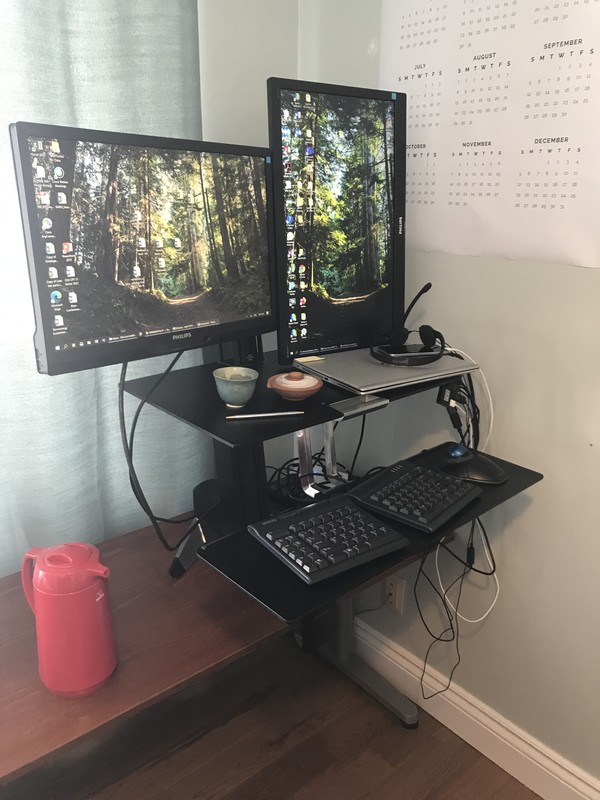 What's in my desk? issue #96
Sign up here to get What's in my bag? a week early in your inbox.
I am a terminologist working for the Canadian government on a bilingual database called TERMIUM Plus®. I found my niche with terminology work because I love searching for the exact definitions of terms in specialized fields! Yes, I'm a huge nerd. I used to bring my dictionary to read during Christmas parties when I was a kid. (And I still would if I thought I could get away with it!) — Kim Lacroix
About the desk
Workfit-S Sit-Stand Workstation for Dual Displays with Worksurface
This sit-to-stand workstation sits right on top of my desk. It holds both of my monitors (I like having one of them vertical for seeing a full page) AND gives me a work surface for my cup of tea, pen and post-its. I love that my cup moves up and down with me as I sit down or stand up. The movement of this thing is so smooth that I never have to worry about splashing!
Here's my trackball mouse with scroll wheel (I prefer a corded mouse). This is my split keyboard. I can also adjust the height and angle of it. I also usually have a little ball of sticky tac on my desk that I stretch and pinch during phone calls. Crazy Aaron's Thinking Putty is prettier, but dollar store sticky tac works too. This is the inexpensive Sennheiser headset I use for calls. I like that it has a mute/unmute and volume button right on the cord.
What's in my desk
Cross Classic Century Lustrous Chrome Ballpoint Pen
I've had my "fancy" Cross Classic Century pen for almost 20 years, since my university days. I thought I was so grown up when I bought it. I still love how it feels in my hand – so smooth and small yet with a surprising weight to it. I used to keep it in my wallet, but I've decided I want to use it more, so it is now the only pen that sits on my desk.
Zojirushi Thermal Serve Carafe
I put my tea in this Zojirushi carafe and it stays piping hot all day. My kitchen is only a few steps away so technically I could just go re-heat my tea over and over again in the microwave, but I prefer to use my carafe and pour myself one tiny cup at a time, using pretty pottery from my favourite tea house (they ship worldwide). This carafe holds one litre (33 ounces) of water, which is about the same quantity as my kettle does. I usually fill it up once in the morning and then again at lunchtime — but even if I didn't drink so much, it would stay hot until the evening.
Camellia Ceramic Gaiwan
Sometimes I put only hot water into my carafe instead of tea, and I use the water to make myself a cup at a time, gong fu cha style. I use an inexpensive gaiwan or if I'm feeling fancier I use my handmade shiboridashi (bought on Etsy from a potter in Montreal).
Topo Comfort Mat
As a bonus, here's what's under my desk: this "calculated terrain" mat. I love that it encourages me to move around and stretch my calves while I'm working instead of just standing still!
04/7/21