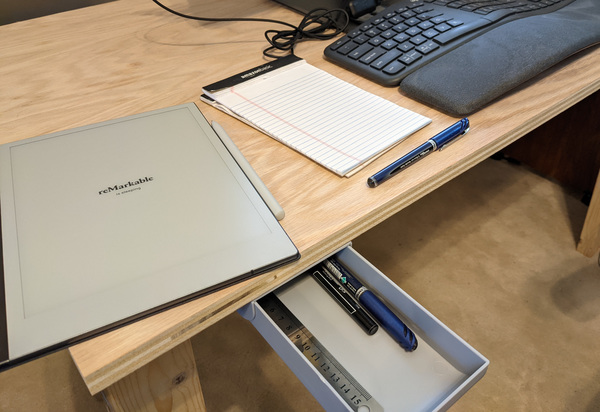 What's in my desk? issue #101
Sign up here to get What's in my bag? a week early in your inbox.
I'm a software engineer, writer, maker, and huge Tolkien nerd. As is true for many makers, I'm fanatical about the tools I use. I'm happy to share a few of my own go-to solutions for common life problems! — Nathan Baker
About the desk
I've been working from home since March of last year. My home study is not large enough for two full-size desks, so one of my first pandemic projects was building a second desk for myself. That way I could guarantee it would fit precisely in the space I had available and could maximize surface area and minimize cost and wasted space. The only tool I needed was a drill, and I was able to pick up all the supplies I needed at Home Depot. It paid off that I did my homework beforehand … knowing the exact lengths of 2x4s I needed, they were willing to cut them for me.
What's in the desk
reMarkable 2 ($399)
This writing tablet has dramatically decreased my clutter and increased my organization. Billed as the "world's thinnest tablet", it does one thing very well: hand-written documents (ok, it actually does two things well: hand-written documents and annotating PDFs, but I don't use the latter functionality). Thanks to this device, I no longer find myself scrabbling through endless sheets of paper trying to find the one I took those all-important notes on.
AmazonBasic writing pads ($10, 12pk)
For stuff that I know I'm going to write down and then throw away, these cheap 5×8 writing pads can be bought in bulk. I put them everywhere in my house — I'm rarely out of arm's reach of one. For jotting down quick thoughts, making temporary lists, doodling, or a hundred other tasks, these are my go-to.
Pentel EnerGel 0.35mm Needle Point pen ($3)
I grew up being told not to waste paper, so I learned to write very small. As a result, I like very, very fine points on my pens. And I absolutely require my pens to write the first time — no scribbling in the margins to get the ink flowing. I carry one of these pens in my pocket everywhere I go, and I keep a couple of them close at hand in my desk drawer.
TuTuShop under-table drawers ($14, 2pk)
I found these in Recomendo issue 223, and they are the perfect addition to my simple, homemade desk. If I find myself needing to store more things than can fit in one of these sliding pencil drawers, I know I need to take some time to declutter. They have a simple adhesive on top that, once stuck, has not failed me yet, and though I'm quite tall they don't hang down low enough to hit my knees when I swivel in my chair.
05/12/21
(We want to hear about unusual and unusually useful items that you have in your desk, bag, closet, fridge or where ever you keep things. It can be anything really: work bag, pantry shelf, beauty drawer, toolbox, etc. Start by sending an email to claudia@cool-tools.org with a photo of the things in your chosen space (you can use your phone). If you get a reply from us, fill out the form. We'll pay you $50 if we run your submission in our What's in my ...? newsletter and blog. — editors)