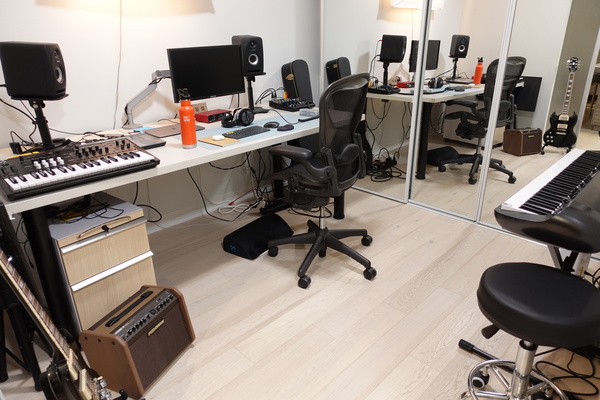 What's in my … ? issue #119
Sign up here to get What's in my bag? a week early in your inbox.
Elliott Fienberg is an ambient and experimental musician in Toronto, Ontario. His credits include the video games The Bigs 1 & 2, Orphan Black: The Game, and more. Stay up to date on his work through his podcast, aptly named Elliott's Podcast and his newsletter The Sunday Bagel where he writes about the creative process and his slow but steady path to finding consciousness as an artist.
You can find Elliott on Instagram @elliottfienberg.
My music studio does double duty as a regular office space for consulting and writing projects, so a long desk with ample closet space seems to be the best way to have this room function in the two capacities. I can stash music gear away if I'm trying to focus or bring it all out if I'm inspired to hook everything up and tinker. With so much gear it wouldn't be right to try to pretend that I have a clutter-free space as I embrace the idea that the creative process is a bit messy.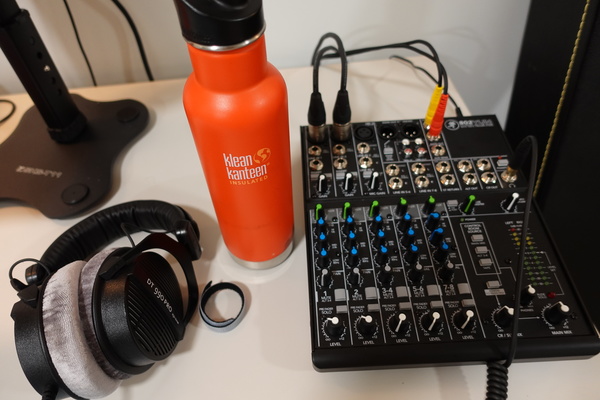 Klean Kanteen Insulated Classic (Orange) — I know that the day I leave this thing behind on a train or a bus is going to be a sad one, but in the meantime I've enjoyed filling it up with cold Brita-filtered water from the fridge. It's especially great for hot outdoor activities like golf where you are ok with a heavier bottle. I know a lot of people love their S'well bottles but I'm now a loyal Klean Kanteen'r.
Beyerdynamic DT990 Pro Headphones — These studio monitors feature soft, velour ear pads that feel like they were sourced from Victoria's Secret. The other benefit to them is that they're open-back which is helpful if you want to hear your surroundings a bit better. It's a feature that's not common in the mainstream market which often promotes noise cancelling, but it's nice if you want to keep your ear to the ground of the outside world. The only issue is that they need a bit more amplification than your typical headphone, so they tend to work better with something like an audio interface rather than your computer's built-in headphone jack. There are portable headphone amps for audiophiles that you would need for these "cans."
Trilancer Cable Ties (Pack of 50) — I have so many cables, and wrapping them with these ties is the best way to make sure you don't end up with a rats nest in the drawer after a week. I'm not OCD with cables as you can see by the photo of my studio, but having an abundance of cable ties that are easy to operate is a real help. Some people might even want to tie the cables down to the desk, or to each other to create mini highways, but I found that it gets annoying for music use.
Mackie 802VLZ4 8-Channel Mixer — Ages ago I used to have a Behringer 802a mixer as the center of the studio but this time around I've experimented with Mackie's offerings and have been very happy with the VLZ (Very Low Noise) series. If you learn a model like this one you can take that knowledge up the chain to the bigger Mackie mixing consoles. I spent a lot of time researching mixers this year and found that Mackies are a reliable choice for getting a clean sound with a good number of routing options. If you want something a bit more brainy I found that Allan & Heath is also good, but if you're looking for a simple mixer for the center of a small project studio then the Mackie 802 or 1202 from the VLZ4 series are solid bets.
09/15/21