Issue #151
Sign up here to get What's in my NOW? a week early in your inbox.
Ben Reuter is a university professor, an exercise physiologist, and a podcaster (FitLabPGH and Moving2Live). He straddles the academic and practitioner worlds. Ben is a lifetime mover promoting the ethos "movement is a lifestyle not just an activity because movement is part of what makes life complete."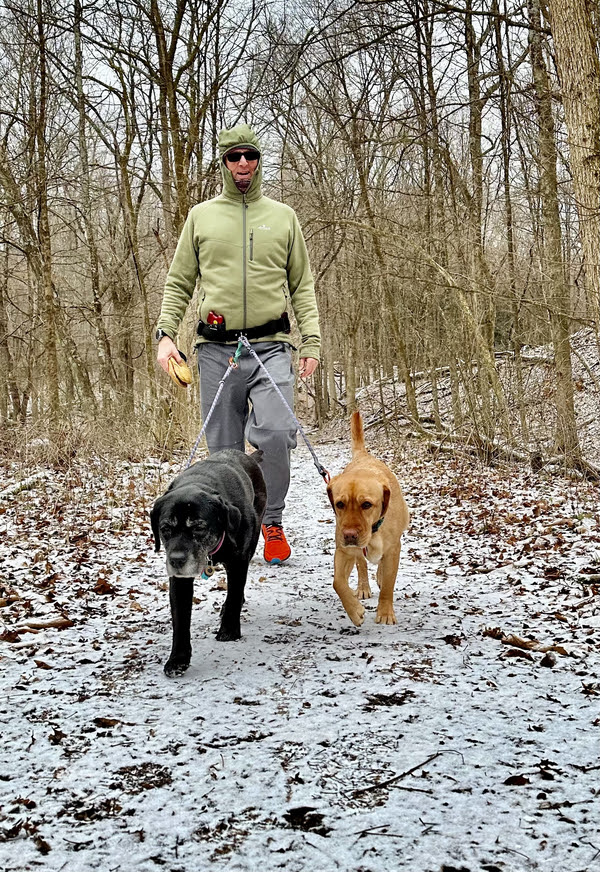 PHYSICAL
My two Labrador Retrievers
My dogs are a key part of my life stress management. No matter what happens the labs are always happy to see me, happy to receive attention and happy to take a walk/run in the woods. I've had two dogs since 2013. I am probably a little slower running because my running/walking is at their pace/time. However having them has enriched my life more than I ever expected.


Oura Ring
I've used the Oura since sometime in 2018. It is an excellent tool to help me understand what influences my sleep quality. For example I have learned a glass of wine after 6pm will reduce the quality of my sleep — a negative influence. On the positive side, 10-15 minutes of gentle stretching/mobility work in the 30 minutes prior to going to bed results in better sleep quality.


Flair 58 lever espresso machine
I like good espresso. I am on a 2000+ day "streak" of at least 1 double espresso each day. I enjoy the taste as well as the routine of making a good shot of espresso. About a year ago I acquired the Flair after more than 10 years of using a semi-automatic machine. The lever espresso machine enhances the coffee routine. It takes a little longer to pull a shot of espresso, but knowing you physically influence the quality of the shot is very cool.


DIGITAL
Spotify app
I am old enough to remember the cassette tape and then CD "clubs" — 10 CD's for a penny…I also remember hearing obscure bands on college radio stations and searching for their CD's in local CD shops. Spotify gives me access to literally thousands of bands and songs. It allows me to experience a variety of music that is virtually unlimited.


Feedly feed reader
Using Feedly allows me to follow hundreds of blogs and web. I've used it to read sites without needing to go directly to each web page. It exposes me to a variety of information sources for personal and professional interests. I've used it since Google Reader was discontinued. I've tried other feed readers and keep coming back to Feedly.


INVISIBLE
Appreciation for what you have
It is easy to focus on what you don't have, what you want and what you need. However taking the time and having the awareness to appreciate the now is vastly under rated and under utilized. I had a fairly serious eye condition from 2013-2017 which required multiple surgeries and procedures. Going through this helped me really appreciate life in the now, even as I continue to plan for the future.
12/28/22