What's in my … ? issue #131
David Yoon is the New York Times bestselling author of Frankly in Love, Super Fake Love Song, and for adult readers, Version Zero and City of Orange. He's a William C. Morris Award finalist and an Asian/Pacific American Award for Young Adult Literature Honor book recipient. He's co-publisher of Joy Revolution, a Random House young adult imprint dedicated to love stories starring people of color. He's also co-founder of Yooniverse Media, which currently has a first look deal with Anonymous Content for film/TV development. David grew up in Orange County, California, and now lives in Los Angeles with his wife, novelist Nicola Yoon, and their daughter. Learn more at davidyoon.com.
This is my main workspace, which really just is a corner of the main bedroom in my house. I like to do my work in small dim cloisters. I think because it reminds me of growing up as a latch key kid and having all this free time to hole up in my room and be as creative as I wanted to be.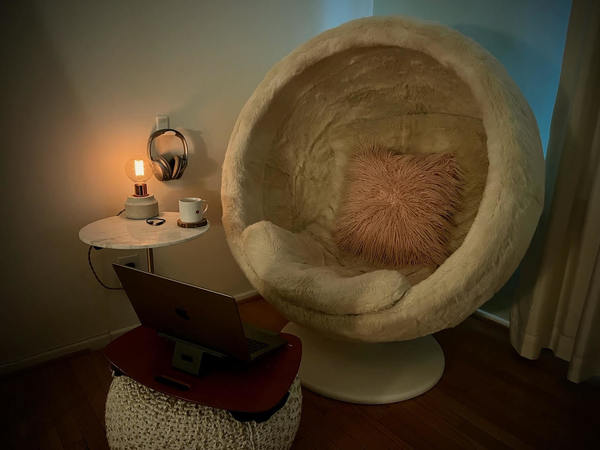 Orbit Luxe Faux Fur Chair from Restoration Hardware ($2,599)
My wife (and #1 NYT bestselling author) Nicola got this big fuzzy ball for me, and it's my favorite chair ever. The chair muffles sound and lets me shut out the world. Also it makes me feel weirdly safe.
ParcSlope for Macbook & iPad from Twelve South ($60)
It's hard to see in the dark photo, but there's a little riser underneath my laptop that makes typing easier and lifts the screen to a more ergonomic height. I know there's tons of laptop risers out there, but this one is made with perfect precision from a single piece of metal, and is absolutely rock solid and stable to use. I'm all about stability and security these days, can you tell?
6-inch USB-C to Lightning cable ($10)
That black curlicue on the side table is a really short cable. I love short cables because they take up so little space and reduce clutter. I make video games as a hobby, so I'm constantly connecting devices to my laptop for debug builds. There's a million of these on Amazon for cheap in every combination imaginable.
Tapered Edison Bulb Concrete Touch Lamp ($175)
I used to light a candle to give me something to stare at while thinking about stuff (my "light of inspiration", lol), but got sick of having to change them constantly. This lamp creates great mood lighting and also helps offset the brightness of my laptop screen. You just touch the metal part to cycle through three brightness levels. There's cheapo versions of this lamp everywhere, but I say go for quality and support wonderful indie retailers like Maker & Moss.
Upcoming projects
My next adult novel, City of Orange, will be published on May 24, 2022 by Penguin Putnam. It's a post-apocalyptic thriller and intimate character study about a man who wakes up with no memory of how the world ended, and embarks on a search for his missing wife and daughter.
12/8/21