What's in my … ? issue #122
Sign up here to get What's in my bag? a week early in your inbox.
I've been a professional business coach since 2004. W5 Coaching — a name derived from the 5 questions: who, what, when, where, and why — which underpin the Socratic methodology I employ in my coaching. During that time, I've worked with over 300 clients, taking them through a systematic process that helps them get organized, confident, and in control of their businesses. — John Nieuwenburg
In March of 2020, it became clear that we were all going to spend a lot of time on Zoom. As such, I wanted to improve the zoom experience for my clients and make it the best that it could be.
Have you noticed how it appears that the other people on the zoom call are looking down at their monitor? If the past few months have taught us anything, it's that it's really annoying when someone is looking just to the side of the camera. To solve this problem, I bought a teleprompter, camera, iPad, and a device that lets me use the iPad as a second display for my computer. Normally a teleprompter is used when someone wants to read text while on camera. In my case, I use the teleprompter to be able to look directly at my client while giving my client the experience of me looking directly at them.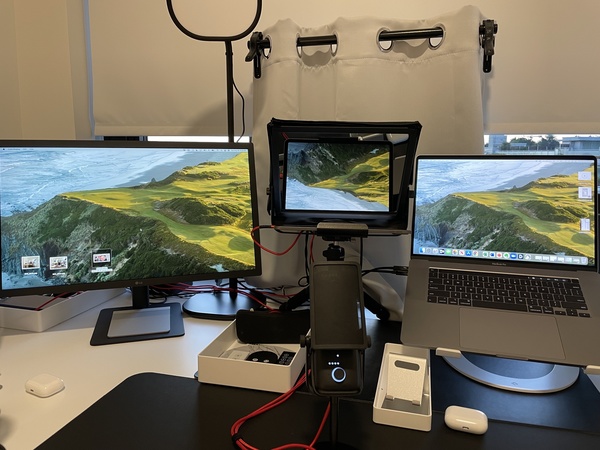 To make all of this work, I have
1. a Glide Gear TMP 100 iPad/Smartphone Video Teleprompter ($199)
2. a Canon M200 ($550) and the Elgato Cam Link ($130) which takes the camera feed and converts it so that it can be used on the computer.
3. an iPad Pro 11″ ($800) which is the largest size that fits the teleprompter. Notice the red cable that is plugged into the iPad which provides power and connection to the MacBook Pro
4. the Luna Display from Astropad ($130) lets you turn any Mac, PC, or iPad into a second display. The magic for this use case is in the way you can turn the iPad using the Luna Display into teleprompter mode which inverts the image so that it is correctly oriented
5. the LG Ultrafine 24″ Monitor which extends the desktop of the MacBook Pro
If all of that sounds daunting, this video makes it easy to understand.
If you would like the people with who you do zoom calls see the best version of you then this set up is for you!
10/6/21