What's in my … ? issue #132
Casper Kelly is a writer and director of TV and movies including Too Many Cooks, Your Pretty Face is Going to Hell, Archer, Aqua Teen Hunger Force, and the Cheddar Goblin section of "Mandy." He also wrote the short story collection "More Stories about Spaceships and Cancer." He's on Twitter at @heycasperkelly.
I have a built in shelf in my home office that I haven't organized yet. In addition to part of my wife's Martha Stewart magazine collection that I have yet to move to her home office and my burgeoning blu ray collection (that I've stopped adding to until I make my own movie) there is a bunch of things special to me including childhood things I hadn't thought about in ages until my parents recently downsized and foisted it on me. I don't really mind that the shelf is junky. I am certainly more of an Oscar than a Felix (vis a vis The Odd Couple) in the neatness department and who wouldn't want to be like Walter Matthau?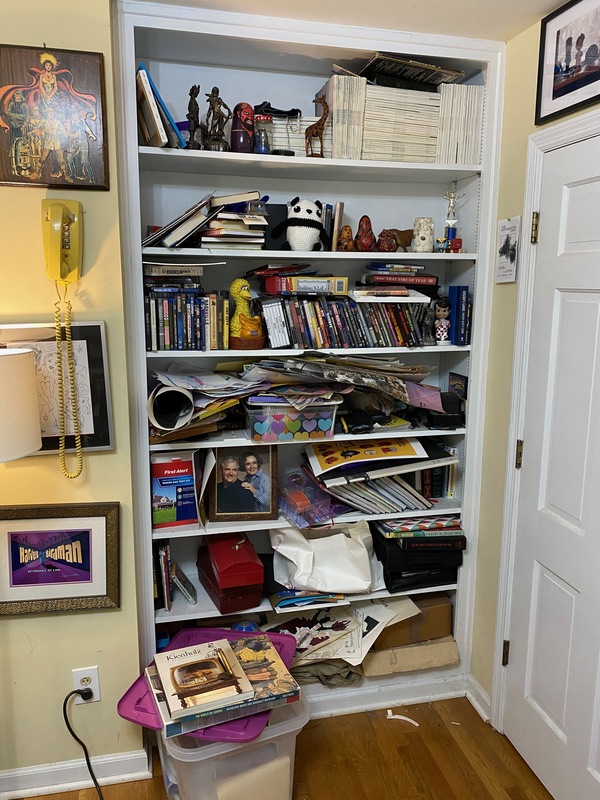 On the lower left is the book of the artist Edward Kienholz who exposed me to the concept of art installations — so great! There's nothing like being INSIDE an art piece to feel moved. Look him up here — he would buy out apartments before they were torn down and recreate them as art installations with sad people living inside. He also did a piece with a pistol set off to fire once randomly in the next 1000 years and you could sit in a chair the gun is pointing at and contemplate your fragility! But I digress.
Star Wars plaque. As a tiny child I had some cool neighbors from New Jersey. I think they were the Bush's. In addition to having cool accents (to my southern ear) and exposing us to the recipe for something called Italian Chop Suey they made me this amazing Star Wars plaque by shellacking a carefully cut out oversized comic book page onto stained wood. I love this so much, including the old school soda pop top used as the hook. People were resourceful back then! It is above the phone from Too Many Cooks which although not connected to an actual landline also makes me happy.
Assorted desk figures. The TV network Adult Swim made Russian nesting dolls for my show "Your Pretty Face is Going to Hell" and I love it so much. I wish I had nesting dolls for every project I work on. Should be standard. I don't know if this is the company that did them but here's a company that does custom nesting dolls.
Middle school silk screen. This was inspired by Frank Frazetta's "Death Dealer" using a silk screen process in my school's art class. This was 100 percent sincere with no ironic or tongue in cheek layer. My art teacher sure hated this but I still love it. Middle school angst incarnate! I should probably frame it but I'm not sure I want to think of Middle school angst that often. Also I am running out of wall space.
Art piece from my 20s. I started doing art after work just for fun. No agenda. I can actually draw a little better than this but I like the looseness and I left the pencil lines in on purpose. I call this "Man vaguely resembling Kurt Vonnegut peruses the paper on a lazy Sunday while his neighbor watches a movie containing brief nudity." This makes me want to get back into making art.
12/15/21