What's in my … ? issue #124
Sign up here to get What's in my bag? a week early in your inbox.
Seth Godin is a 20-time bestselling author, a blogger, an internet pioneer, and a teacher. Find out more at seths.blog.
My "space" is the counter where I cook dinner every night for family and friends. And as diets diverge and time gets short, there are a few go-to items that I keep coming back to.
This is a tiny portion of the huge pile of bottles and potions and substances I reach for, but here are some unsung or little known favorites.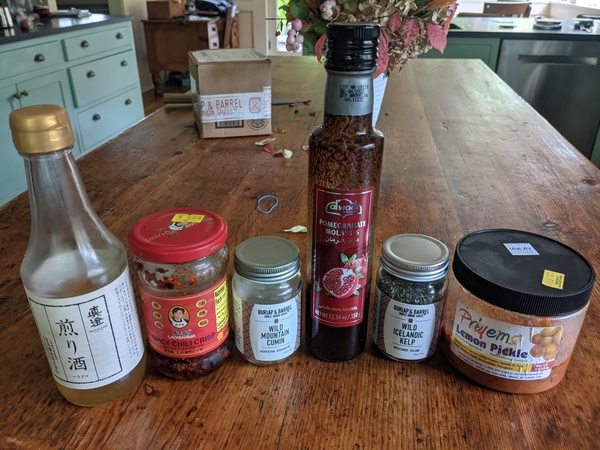 Wild Mountain Cumin ($10) and Wild Icelandic Kelp ($10)
Two are fromBurlap and Barrel. It's hard to imagine that their spices are so dramatically better, but they are. The way they treat their suppliers is what caught my eye, but the quality of what they sell is off the charts. The cumin in particular.
All-Purpose Seasoning "Roasted Sake" ($17)
The amber liquid is my prized secret possession. I'm not even sure exactly what it's called. It's hard to find but totally worth looking for. Like soy sauce, but most definitely not. And it has no soy.
Al Wadi Pomegranate Molasses ($12)
The pomegranate molasses is a miracle. It doesn't matter so much which one you grab, as far as I can tell. Try to find one that doesn't have white sugar added.
Lao Gan Ma Spicy Chili Crisp ($20)
The chili crisp is becoming better known, but it's an amazing cooking hack. it never ceases to blow people away.
Priyems Lemon Pickle ($6)
And the last is fresh pickle, from Priyems. Again, the difference between this and the standard shelf-stable jarred stuff is astonishing.
10/20/21
(We want to hear about unusual and unusually useful items that you have in your desk, bag, closet, fridge or where ever you keep things. It can be anything really: work bag, pantry shelf, beauty drawer, toolbox, etc. Start by sending an email to claudia@cool-tools.org with a photo of the things in your chosen space (you can use your phone). If you get a reply from us, fill out the form. We'll pay you $50 if we run your submission in our What's in my ...? newsletter and blog. — editors)