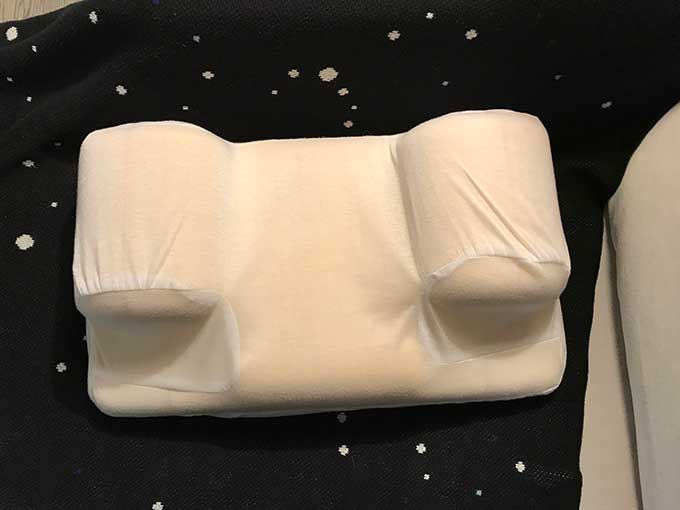 Head support for back sleepers
I purchased this pillow ($70) because I wanted a solution to the creases under my eyes. I didn't understand why they were forming until I noticed that they happened because I slept on my side, which squashed my face against the pillow overnight. However, I don't like sleeping on my back because my head moves around while I sleep and I wake up with a headache and sore neck. I looked around for a pillow that would prevent that from happening and came across the YourFacePillow. I could tell right away that it was a unique looking pillow. If you look at the pictures you can see how it works. It cushions your head with the U-shaped slot. There's more than enough room to comfortably move your head to avoid stiffness problems. The softer sides of the slot prevent you from rolling your head over on your side.
I've been surprised – and impressed – by how well the pillow works. I've been using it for just a few weeks and have noticed a massive difference in the appearance of my eyes. There are no longer any deep creases. I also no longer get the typical neck kinks that I would before.
It offers just the right amount of firmness and I love how the the two side bolsters cradle my head. I also noticed that there's no chemical memory foam smell at all, which is always nice. The gentle pressure-relieving memory foam is super comfortable. It's neither too soft or too firm. I get just enough support from it. I no longer wake up with a stiff or sore neck.
The memory foam breathes pretty well too and I didn't feel hot while sleeping. I replaced the included pillowcase with my personal silk pillowcase and and it fit well. However, you can purchase a separate silk cover in addition to the pillow from Amazon.
I'd have to recommend that people who have neck pain go with the large pillow instead of the standard size one. They have similar overall dimensions, but the main difference between the two is that the larger pillow is thicker compared to the small one, giving you improved neck support. I definitely recommend this pillow to anyone who needs better support while sleeping and wants to get rid of wrinkles and sleep lines.
10/14/19