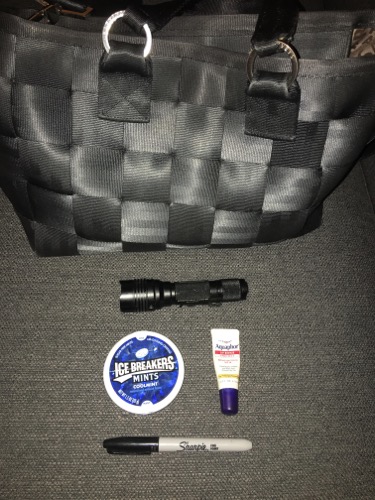 What's in my bag? issue #14
Sign up here to get What's in my bag? a week early in your inbox
Andrea James creates and consults on media focused on sex and gender minorities. As Time magazine noted, she has helped major productions and companies, as well as "worked on countless other projects related to LGBTQ identities." You can find her on Instagram @jokestress.
About the bag
My bag itself is a stylish and nearly indestructible Harveys bag made of woven seatbelts. A great investment. In it, the four things I recommend carrying are:
Standard Black Sharpie ($7.99/12pk)
This comes in handy quite often for marking nearly any surface. ProTip: if it dries out, put it tip down in a shotglass with a little rubbing alcohol in the bottom. Good as new!
Streamlight ProTac HL Flashlight ($61)
This is a crazy bright police style flashlight. Heavy and battery-intensive, but worth it for the brightness. It has a strobe option, too.
Aquaphor Lip Repair Ointment ($4)
This is one of the few brands that does not irritate my lips.
Ice Breakers ($12/8pk)
Coolmint flavor only and always! I always have at least one in my bag and go through a package a day on shoots between myself and those who know I have them on my person.
09/11/19