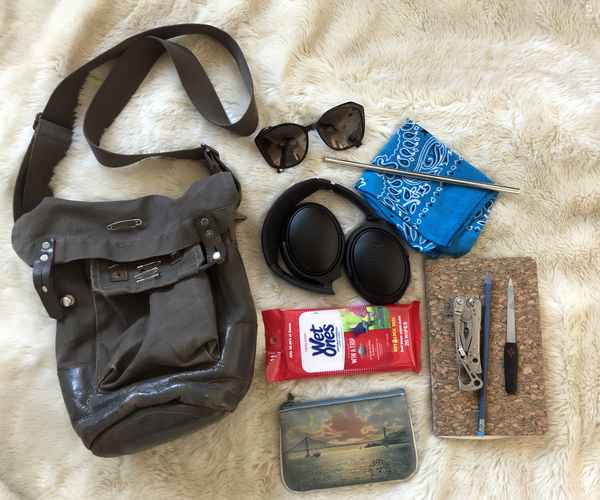 What's in my bag? issue #21
Sign up here to get What's in my bag? a week early in your inbox.
Kari Byron is best known for her role as a host on Discovery's flagship show Mythbusters. Since then she has gone on to host and produce shows spanning several networks, from White Rabbit Project on Netflix to Thrill Factor on Travel Channel to Positive Energy on Nat Geo. Her most recent book is Crash Test Girl: An Unlikely Experiment in Using the Scientific Method to Answer Life's Toughest Questions.
About the bag
I have been carrying a World War II Swedish gas mask bag for decades. It is tough, the perfect size and has a crossbody strap which makes it convenient.
Bose Noise Cancelling Headphones
When traveling I always have my posts noise canceling headphones. I have done a lot of experiments traveling with and without them. The noise from the airplane engine and the hum from the air system is exhausting. I am much more rested when I arrive at my destinations if I've popped on some quiet headphones. It also cuts down on the awkward conversation of the dude next to me trying to chat me up while I want to sleep.
Antibacterial Wet Wipes ($10/24ct, 5pk)
I don't think you need to be a germaphobe to understand how disgusting the seats are on airplanes, trains and cars can get. I am on the move a lot and I don't have time to get sick. I generally give wherever I'm sitting a good disinfecting with WetOnes before I settle in. Have you ever seen someone change their baby's poopy diaper or put their slarvy feet on the food tray on an airplane? The cleanest place to sit on an airplane is the seat that I just left, it will be fully disinfected for you.
Bandanna
Bandannas are essential for me. They can be used as a headband, a hair tie, a dust mask, a rag, Kleenex, or even just a little pop of color around the neck when I am hosting Crash Test World. They also can be used for sun protection, and impromptu purse and if it's really hot I soak it in water and wear it around my neck. I bought a rainbow pack off of Amazon for about five dollars. It has been an amazing wardrobe investment.
Skeletool Leatherman ($78)
I like to bring my Skeletool Leatherman wherever I go. This version is very lightweight and slim and fits well in my front pocket. If I have to go through TSA I switch it out for a basic Revlon nail file ($4). I know it is meant for a manicure but I have used it for broken airline seatbelts, loose screws in hotel rooms and once on an inconveniently locked door. It has a lot more utility than you would expect and you can also file your nails.
Note: I also carry a journal a pencil and a reusable straw pretty much everywhere I go.
10/30/19