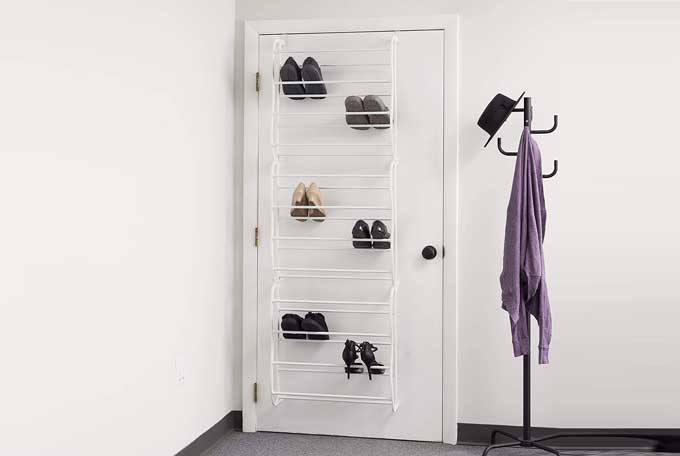 Space saving shoe rack
My family has been using the Sunbeam Door 36-Pair Shoe Rack for over 5 years. Initially, I bought it with a view to copying its dimensions and making a much sturdier version. Suffice it to say that over 5 years later, the original rack has proved plenty sturdy and is in as good a shape as the first day I installed it.
Our rack hangs on the back of the door of a closet under our stairs. The door is narrower than a standard door and it was very easy to adapt the rack to the door width using a Dremel to trim the horizontal metal bars. Some of the low-scoring reviews on Amazon mentioned that the rack was flimsy and that the horizontal bars were liable to fall out of the brackets. When assembling the rack, I discovered that when you initially insert the bars into the side bracket, the fit is relatively loose, however, when you push them home, the grip is plenty tight and will require reasonable effort to take it apart again.
The rack is the perfect design. It makes great use of otherwise unused space. It has great capacity and the shoes are easy to see and access. It has the added advantage that if your shoes are in any way damp or wet, the open-air design makes it the perfect place for your shoes to dry out in the ambient air. I have gifted this rack many times and have always had a very positive response from the recipient.
09/2/20
Sunbeam Door' 36-Pair Shoe Rack [Misc.], White