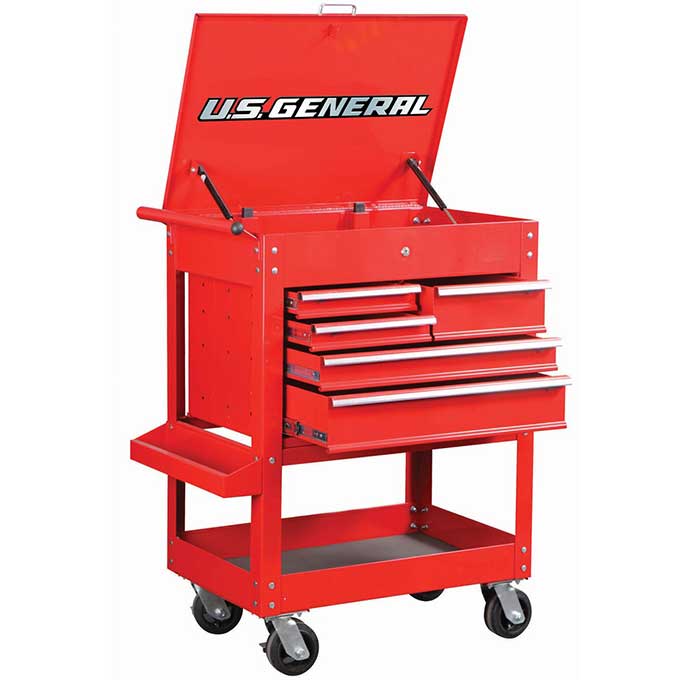 5-Drawer tool cart includes in-drawer tool storage, on-shelf tool storage and covered tray storage
My dad once told me, When you're buying a tool, get the best one you can afford and you'll regret it one time: when you buy it. If you buy a cheap tool you'll regret it every time you pick it up.
So for tools I plan to use frequently, I usually don't shop for them at Harbor Freight. This is a pleasant exception. I purchased the US General 5 Drawer Tool Cart over eight years ago and I've never regretted it. It rolls easily and has locking castors. The lid lifts to reveal a deep top compartment that holds various tools and things you are working and the 5 drawers are of various depths and widths. But the main thing about any tool chest is how well the drawers open and close. These work like a dream. When the lid is down it locks all drawers in the closed position. Once raised, each drawer has its own locking lever that is located under the handle and easily operated. They glide effortlessly whether empty or loaded with tools and they give a satisfying "click" to let you know they are fully closed and locked before you start wheeling it about the garage.
The only faults I have are the drawer and tray liners tend to lose their shape and the built-in screwdriver holder in the top compartment doesn't provide enough height for some of my hand tools. The lid won't close in those cases. Be aware that I have looked at other US General tool boxes at Harbor Freight and their drawers don't seem to be as good as they are on this model. It's normally priced at $180 but you can usually get it for around $150. More than worth it in my opinion.
05/2/17
30 in. 5 Drawer Glossy Red Tool Cart ($180)