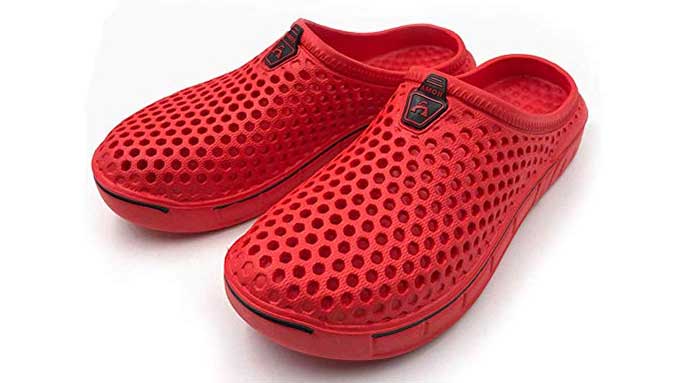 Ultra comfortable footwear
My job (pharmacist) requires that I stand about 8 hours a day, and despite anti-fatigue mats and a variety of different shoes, my feet used to scream in protest by the end of the day.
I went through many phases of footwear to combat the pain: Birkenstocks, Eccos, Adidas, Abeos, Earth Shoes, heat-molded insoles, etc., spending up to $150 a pair; each one would feel pretty good for a month or so, then I'd be back where I started…until I finally gave these Amoji foam clogs a try 8 months ago: they allow me to stand all day, and still be pain free by the end of the shift.
Foam clogs prevent foot pain by simply spreading your weight over the maximum possible surface area, reducing pressure points that can cause pain. No fancy arch support, negative heel, or what have you—they just distribute the load better than any other type of shoe I've found. It's somewhat like standing on wet sand that molds itself to the bottom of your foot. This type of footwear is also popular in professional kitchens—now I know why!
I'm not fond of the "Crocs" look (I also tried a pair and was not impressed by their comfort, either—the foam was too stiff), so I looked for a highly-rated pair that was as un-Croc-like as possible. These Amojis are perforated all over with tiny hexagons, so they don't get all sweaty when your feet get hot. They also have another version that's fleece-lined and not perforated, which I've switched to during the winter. They're slip-resistant, have a generous toe-box so your distal digits won't be cramped, and are so comfortable I forget to take them off when I get home. They're also about half the price of Crocs, and have free returns on Amazon, so they're easy to try out.
My pairs aren't showing significant wear after wearing them every day for months—but they'll be cheap to replace when they finally do wear out. I wouldn't take them on a hiking trip (or anywhere else little rocks and burs could find their way inside them) but for general purpose walking and standing, they're perfect. The key attribute seems to be the softness of the EVA foam; if it's too stiff, it won't distribute your weight as well. I can bend these into a U-shape fairly easily, so if you're considering a different brand of foam clog, try bending it into a U to test the foam before you buy it; then wear it indoors for a while so you can return them if they don't suit you. May these make your feet as happy as they've made mine!
02/13/20