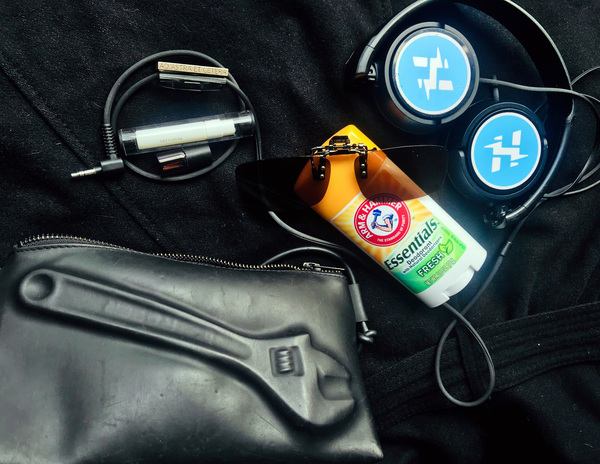 What's in my bag? issue #36
Sign up here to get What's in my bag? a week early in your inbox.
Alex Glow creates videos and projects at Hackster.io, the community for hardware developers. She jumped into electronics as a FIRST Robotics kid, and later at hackerspaces in Ann Arbor and San Francisco; her favorite creations include brainwave-controlled wings, a song that orbited the earth, and her robotic owl familiar, Archimedes. She is currently learning how to recycle plastic. You can find her on Instagram and Twitter @glowascii.
About the bag
POMCH VF Triangle Bag ($70)
A badass, recycled PVC bag with a wrench vacuum-formed into the side. It's triangular and has tons of room! I tuck my old MUJI hip bag in there to keep things organized. (That used to be my EDC, but the zipper failed and they don't make 'em anymore… ☹️ )
What's inside the bag
Branded headphones
I put Hackster.io logo stickers on a pair of generic headphones, which fold flat in my bag. They work with any outfit in my travel wardrobe, and I can wear them for days in a row, or throw them on for last-minute events. They're cool, useful, and durable — and visible in most photos, where a t-shirt might be covered up or cropped out.
Arm & Hammer Essentials Fresh Deodorant ($3)
I prefer deodorant without antiperspirant, and most are hyper-masculine and/or heavily scented. This one is subtle and pleasant, but effective. I keep a new stick at home, and a lighter, partial stick in my bag. (Bonus tasty smells: Fat Electrician perfume by Etat Libre d'Orange, and Greylocke by Phlur.)
Brass ring
I designed this two-finger ring in OnShape (a browser-based CAD tool), and had it fabricated in raw brass by Shapeways. It says AD ASTRA ET CETERA: a reference to "Ad Astra Per Aspera" (to the stars through difficulty), the state motto of Kansas, where I lived as a kid. "Et cetera" gives a less serious take on it, and also implies that you might go further. It feels good to wear things I made, and this ring can fancy up an outfit; I pair it with a laser-cut, smoked acrylic version of the ring.
Clip-on shades ($10)
I call these my "dad shades", because my dad used to wear them in the car, and they're incredibly handy for those who wear glasses. No more choosing between blurry vision and light-blindness, or swapping between regular glasses and expensive prescription shades. They're polarized, and they flip up, in case you need to take a clearer look at something; the brown lenses are like a nostalgic sepia color filter for the world. (I think they look dorky, but apparently others think they're cool.)
02/12/20