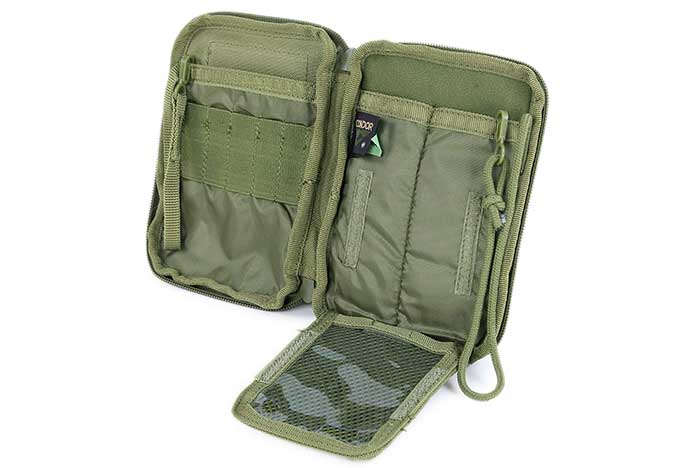 Notebook, pens & essentials holder
I had seen these small pouches ($11) before, but didn't pay close attention until I saw photo of a fully-loaded one on Flickr. When I don't want to carry my whole gear bag, these are great for the bare essentials. Even when I do need my gear bag, the BDU is compact enough I just slide it right in, as is. It really helps keep my stuff organized. I fit five pens, including the previously-reviewed 0.18 mm pen, a Moleskine planner, Sony Clie PDA, ID and credit card, pocket knife and a small flashlight. You open up the wallet and it has slots for pens/pencils with a pouch behind that section that fits a pocket Moleskine perfectly. On the inside right, there's a flap with a clear plastic pocket for ID stashing. It can also fit a small portable music player.
Behind that is another pocket where I store my small LED flashlight and pocket knife (removed easily for air travel, of course). On the back are attachment straps that can be used as a belt mount – if you prefer a larger version of the Handyman Belt Organizer — or to mount the wallet to another bag or gear. I am in the process of putting together a bug out bag with a small first aid/survival kit. I'll likely buy another BDU wallet just for that. After I started searching, I found there are various manufacturers (BlackHawk and Spec-Ops) and styles to choose from (some don't have the flap that can cost $18 to $30. I ended up getting mine for less from a surplus store on eBay.
Related items previously reviewed in Cool Tools

Adventure Medical Kits Pocket Survival Pak

ALL-ETT Billfold Wallet

Foldz Flat Pen
08/23/18