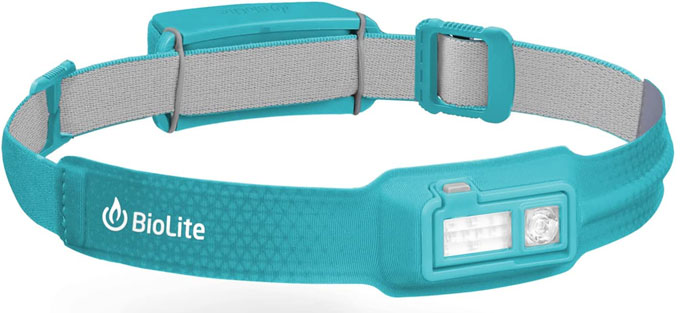 330 Lumen No-Bounce Rechargeable Head Light
I've owned my Biolite 330 headlamp for two years. I bought it for trail running and general pre-dawn road running. I have found it to be well suited for running because the built-in USB rechargeable battery rests on the back of my head, opposite the slim but powerful light positioned on my forehead. It's a bounce-less design and super comfortable, and I don't have to worry about the light sliding down, so I don't have to over-tighten it to keep it in place. It's so comfortable that I often forget I'm wearing a headlamp at all.
What I've discovered is that it's not just great for running, but also an excellent work headlamp. In fact, I reach for it more often to do a project or chore than I do for running. The slim flush-front lamp has an extremely low-profile, which gives me confidence when I am working in tight spaces, like the attic crawlspace or the basement. I can work hands-free and easily search the rafters and dark corners, making tasks like checking the sump pump or getting my hands on the right equipment or materials less challenging.
The lamp is easy to adjust, both in positioning and lumens, so I can customize the lighting for any task. Recently I was disassembling and reassembling the extruder on our 3D printer, which sits in the corner of a poorly lit room. I adjusted the angle of the lamp and the lumens to provide just the right lighting in the work area. Not too bright so as to avoid glare from stainless screw heads, and I aimed it at just the right angle so that I didn't misplace any screws or fumble with the hex key too badly.
Additionally, I live in a snowy part of the country, and my snow thrower doesn't have a built-in light like some of the more expensive snow throwers. Wearing this headlamp fixes that and enables me to get up and out early to deal with snowfall on dark winter mornings. I've owned headlamps that combine both the lamp and battery pack on the front, but they were not as comfortable to wear or as functional as the Biolite 330. I like the USB rechargeable battery pack too. Too many of my AA- and AAA-battery-powered gadgets have suffered corrosion from leaky/old batteries. This headlamp holds a charge for 3.5 hours on the highest setting and 40 hours on the lowest setting. It sometimes is out of stock on the Biolite website, but they make a range of lights, so you can find a similar headlamp with many of the same features.
01/24/23