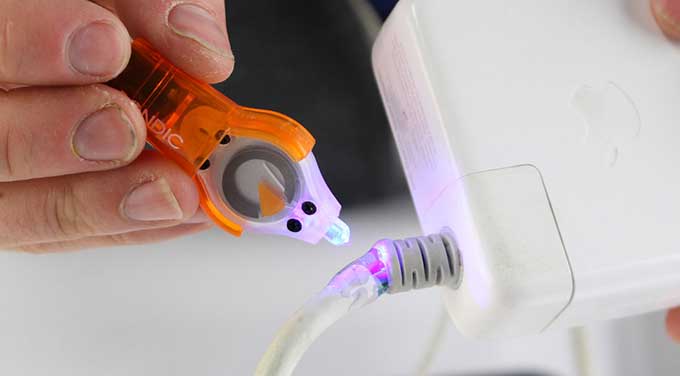 Plastic welding liquid cures in 4 seconds
With a lifetime of making, I have used almost every type of glue and bonding agents. Hot glue has been a big friend during my many years as a professional prop maker. Clear epoxy is a great hard drying and strong adhesive that cures in 5 to 20 minutes. And superglue is super fast!
A buddy of mine suggested I might try Bondic ($19), a honey thick plastic welder that solidifies by exposure to UV light and joins wood, plastic, and metal. I purchased the Bondic Starter kit that comes with two 4 gram tubes of liquid plastic and a battery-powered LED UV light. It indeed hardens in a few seconds and is very simple to use. I use it to protect wires coming from soldering points I make — a drop on the spot keeps the wire in place.
Warning, Bondic does get very hot while under the UV and during curing. I found out the hard way by testing it on a fingertip.
10/11/18
(This is a Cool Tools Favorite from 2017 — editors)
Bondic - Liquid Plastic Welder ($19)