Aural
Bose QC20 Headphones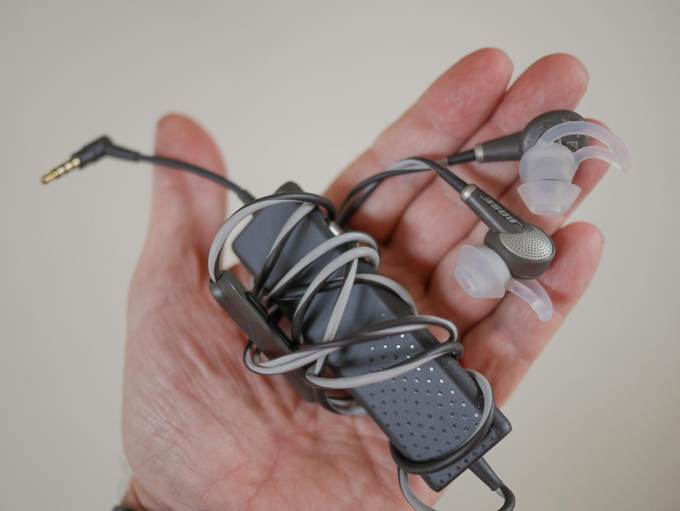 Best all around noise cancelling earphones
The new Bose QuietComfort 20 earbuds are by far the best noise cancelling traveling earphones I have ever used. I fly a lot and I am less fatigued after a long flight when the background roar of the plane is erased so I've been a long-time fan of noise cancelling earphones.
I have bought and used many reputable brands of noise cancelling headphones over the past two decades. Most of these models (Sony, Panasonic, AudioTechnik) are much cheaper than Bose gear. But I kept returning to Bose, despite their outrageously sky-high price, because their noise cancelling was noticeably better.
I have followed the Bose models as they got smaller and more compact — a significant factor since I have to carry the headsets my whole trip. With genuine hesitation, I bought their most recent version, a set of tiny ear buds, the QC20. I normally find earbuds uncomfortable after an hour. But for some reason, I can (and regularly do) wear these for 12 hours straight. I even sleep with them on. Their noise cancelling is as good or better than the fitted ear cup versions. Their audio quality is fine for my purposes, watching a movie or listening to music from my phone.
Best of all for me, they pack into a tiny fist sized pouch, along with their battery and controls. They just disappear into my small daypack, with almost no additional weight — something I think about when I am hauling my bag around for a month. The non-removable battery is rechargeable via USB, lasts me for about 16-20 hours. Without a charge, external sound inputs will still play, just without noise cancelling. There is no way around it; these are expensive at $300. But if I lost these, I'd immediately buy a new pair. Nothing else is as portable and effective.
12/18/15
Excerpt