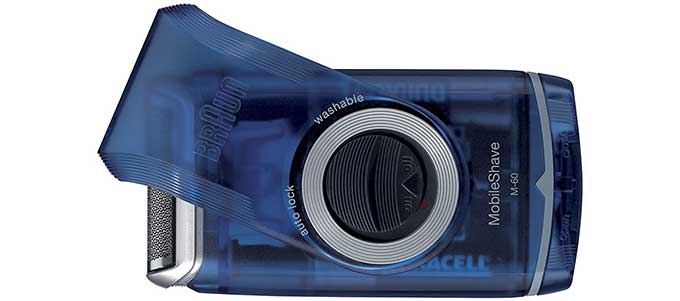 Easy cleaning under running water
Ten years ago, I picked up a Braun MobileShave M-60 for about the price of a twelver of craft beer. Billed as a no-frills, compact shaver for travelers, this little guy has proven to be a trouble-free, tough, and effective electric razor. Admittedly, I don't have lumberjack-type beard growth, so I can't claim to know whether the Braun will handle the kind of whiskers that might best by cut by a small lawnmower. But for my purposes it is a winner.
I shave with a cartridge razor every other day (sorry, but no electric can beat a good blade…), and on the in between days, I use this. It is quick, nimble, and capable. I had a fancier electric razor, but its foils were like gossamer — tearing and having to be replaced about once a year for something like thirty bucks a pop. This little MobileShave has no such problem. I don't even think I've ever replaced the cutter head. It runs forever on a pair of rechargeable AAs, washes clean under running water, and has a nifty cap that rotates to protect the foil and lock the power button into the "off" position. Also, it comes in colors. Colors are the best.
02/21/22
(This is a Cool Tools favorite from 2018 — editors)
Braun Pocket Mobile Electric Foil Shaver