Gareth's Tips, Tools, and Shop Tales - Issue #55
Calculating How Much Epoxy You Need
John of Graz Makes posted a link to this Igram video on the TotalBoat account on how to calculate the amount of resin you need for a given pour. The post includes a link to a handy epoxy resin calculator on the TotalBoat website.
Reinforcing Wires Attached to Tiny Connectors
I sometimes have a devil of a time unplugging the 2- and 3-pin JST connectors on small, heavily-populated printed circuit boards. It's hard not to pull on the wires as you try and claw the connector out. Years ago, I asked my friend John Park if he had any suggestions and he offered: "Hit the wire/connector intersection with hot glue to help provide a stronger connection." Great idea! If you do this, make sure to go easy on the hot-melt. Since things are so tight, you don't want to add to the bulk of the connector which might make it harder to get your fingernails or pliers in there for a decent tug. Trivia bonus: Do you know what "JST" stands for? Japan Solderless Terminals.
TOYS!
Via this 
"weird tools" video
 on 
Izzy Swan's
 channel comes a recommendation for 
inexpensive foot switches
 you can add to your powered tools. I got a 
jeweler's rotary tool
 a few years ago that has a foot switch and I love it. I wasn't aware that you can get foot switches to plug other shop/power tools into and they're under $20.
Repurposing Old Molded Tool Cases
What do you do with the many molded cases that drills, rotary tools, sanders, and other power tools come in when you're no longer using them to store the tool? In this video on Doublewide6 Repairs, Bob shows how easy it is to cut out the inner molded insert. You can also add polyethylene/polyurethane/convoluted foam (aka gun foam) to create proper custom inserts if you wish.
Paper Cups in the Shop
It was great to hear former Make: contributor, Japanese-style woodworker, Len Cullum, on the Cool Tools podcast. In the interview, Len recommends these disposable paper "art cups" for around the shop, to organize small parts, hold glues, etc. I'm a huge fan of using plastic milk bottle caps as disposable cups for really small amounts of material and tiny parts, but I might get some of these for bigger jobs.
How to Tie Your Shoe Laces
Dirt Farmer Jay offers this tip on tying your shoes to help prevent the bow knot from "spilling." The idea is simple: Place the left lace over the right (instead of right over left, as is most common). There are some useful thoughts and additional suggestions in the Comments section of the video, including a link to this video on double-looping the bow knot for extra security.
Maker's Muse
Shop Talk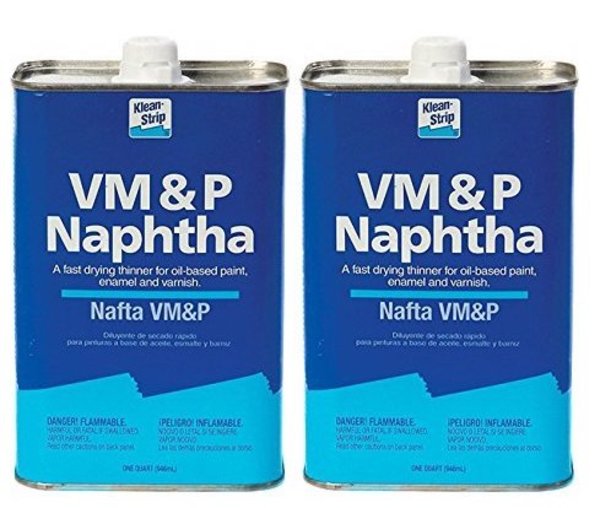 After VM&P Naphtha was mentioned in the last issue, reader Mike Stern wrote in: "A little paint industry trivia for you: The VM&P stands for 'Varnish Makers & Painter's' naphtha. It's from the early days of the paint industry. Keep up the great work, it's truly appreciated. "
***
In response to the idea of using lithium grease on door hinges, reader Dave Leeds writes: "I've had to deal with hinges quite a bit as a locksmith. As long as they aren't in a dusty area, spray synthetic is my choice of lubricant. It's good over a wider temp range than lithium grease.
07/30/20
(Gareth's Tips, Tools, and Shop Tales is published by Cool Tools Lab. To receive the newsletter a week early, sign up here. — editors)