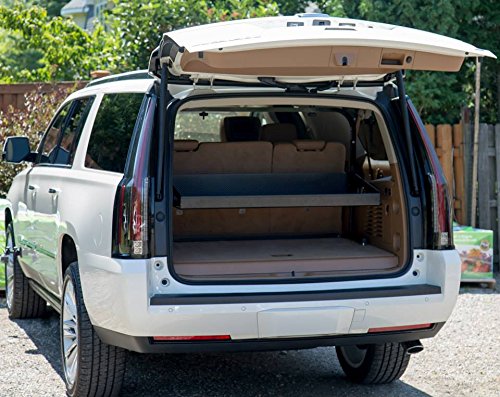 Interior cargo management system for SUVs
This appears to be a shill review. Many thanks to Cool Tools reader Matthew Connor for looking into this. He wrote:
Meaghan Hollywood works for CargoRAXX. Meaghan Hollywood put a review up quasi-anonymously on Amazon. A similarly worded review is now anonymously on KK.org.
On Amazon there are two reviews for the product (https://www.amazon.com/CargoRAXX-S1A-Interior-Management-System/dp/B01A6X4MBS). Neither is attributed by name but the one from January 18th, 2016 refers to "my Tahoe" and read similar to the KK.org review. Let us suppose the author is, in fact, the same person.
Clicking on the name for the review – merely "Amazon Customer" brings up their profile (https://www.amazon.com/gp/pdp/profile/A1CF94IIWSAE00/ref=cm_cr_dp_pdp). This profile contains one Wish List on the left side. Clicking on it revels – the name of "Amazon Customer" – it is Meaghan Hollywood.
Ok. I believe at this point the author of the KK review and the author of at least one of the two reviews on Amazon are in fact the same person and that person's name is Meaghan Hollywood.
Here's the kicker, CargoRAXX has a website with a blog feature – their blogger's name is Meaghan Hollywood. (http://cargoraxx.com/5-reasons-re-organize-suv/)
09/6/16