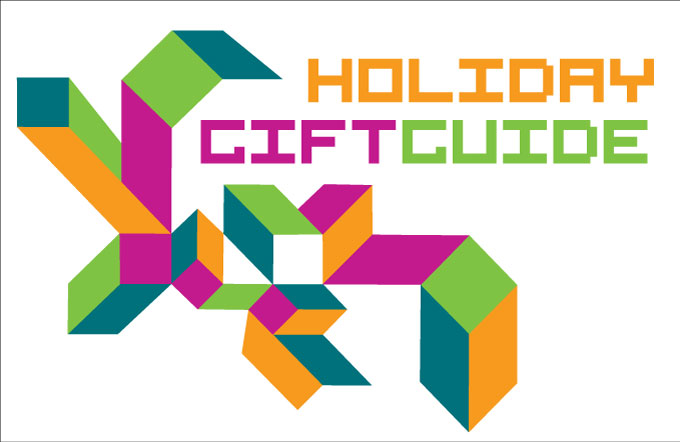 Favorite gift ideas from the guests of the Cool Tools Show
This month and last month, we are presenting a series of gift suggestions selected from the pages of Cool Tools: A Catalog of Possibilities (which itself makes a great gift), and from the website. This week: picks from our podcast guests.
---

The Nomad Charge Key and Charge Card ($25) is a tiny rubberized two inch strip and can go on your keychain. One end slides into your USB jack. The other end slides into your iPhone. – David Pogue
---
They say you should stop and smell the roses. I would add to that that I think you should
grab them and press them
($17) between books for a while! – Roberts Stevens
---

Lock Laces ($8) are as tight as your regular shoe laces and they cost about ten bucks. I haven't tied my shoelaces in about a year. – A.J. Jacobs
---

This book, The First 20 Minutes ($14), is sort of a summary of all the different things that she's learned over the years from reading through the research and talking to experts in the field…some of them are almost like tricks or gimmicks. Like, stand on one foot while you're brushing your teeth and you can work on improving your balance for free. Or, pickle juice might help with cramps. A lot of it is just 'Hey, here's what the current science says about the best ways…to work out without having it be a total bad experience.'– Matt Cutts
---
The
Kuhn Rikon Epicurean Garlic Press
($24) has a swivel mechanism. It's a little hard to wrap your head around the first time you see it, but essentially it pops the grill out on its own pivot arm so you can wash water right over it and it cleans it up really easily and it pops back into it's setting where you can push the flat piece against it when you need to actually push some garlic. – Tom Merritt
---

The Light-Up Baseball Cap ($15) is one of those inventions that when it comes out, everyone's like "why didn't we think of that!" – Jim DiResta
---
I just don't like shoes that much unless they are meant to look pretty or meant to just protect my feet. I found these
Iguaneye Shoes
($67) because they just form around your foot and they're extremely minimal. They will just grab your front toe and grab the back of your heel but they aren't a sandal. – Jesse Genet
---
Want more? Check out
Mark's 2015 Picks
and
Kevin's 2015 Picks
and
Picks Under $10
, as well as our
2014 Gift Guide
and our
2103 Gift Guide
!
12/14/15