Podcast
Cooper Bates, Co-founder Hint Mint
Cool Tools Show 236: Cooper Bates
Our guest this week is Cooper Bates. Cooper co-founded the world's first designer breath mint company, Hint Mint. Cooper also created the TEDx concept, and then he co-founded and produced TEDxSkidRow. He's a playwright currently touring two award-winning solo shows, as well as being the founder of the card game: I Think, Therefore I Question.
Subscribe to the Cool Tools Show on iTunes | RSS | Transcript | See all the Cool Tools Show posts on a single page
Show notes: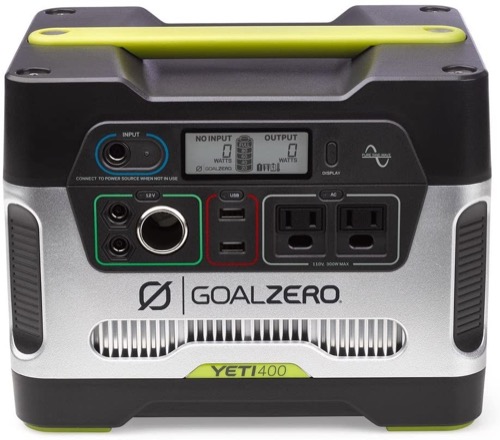 Goal Zero Yeti 400 Portable Power Station
We are big campers. We have a EuroVan, and I like to go out on my own sometimes to just be able to write, as I am a playwright. You need power, and so, I've had battery chargers and all kinds of stuff, but the thing that has saved the day for me is this thing called the Yeti 400. It's the size of a car battery, so it's kind of heavy, but it's an amazingly beautifully-designed compact powerhouse. It has one twin port, so if you wanted to plug in a small lamp or a small fan, or anything with a ground that you plug into a wall you can. It's also got a cigarette port. It's also got two USB ports on it. If you shut off your Wifi, and Bluetooth on your computer, I can run my computer for three days on it, if I dim the screen a little bit, too, which is very cool. If I want to just have it around to make sure that my phone is charging, I can recharge my phone 30 times with it. You can also get solar panels for it, which I haven't quite done yet, because I haven't had a need for it.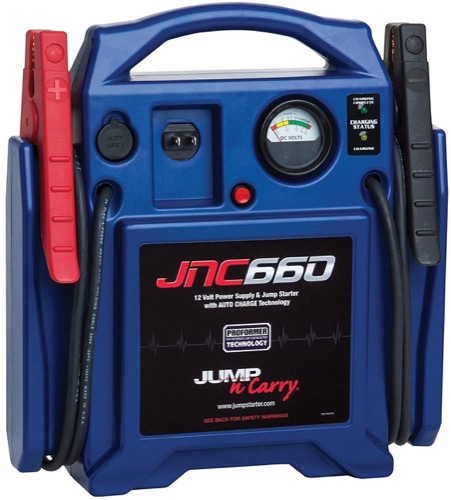 Jump-N-Carry JNC660 1700 Peak Amp 12 Volt Jump Starter
I have two of them. The one that I use all the time, the one that I've had the longest, it's called the Jump and Carry, and if you were to call AAA, the guy or girl, or they, gets out of the truck and this is what they have in their hand. The other one is the Micro-Start. It's a XP-10. I haven't played with it a whole lot. I mean, how often does your car battery die? The thing about it is, I'm always running up on somebody, and this is really nice, to be able to just jump out instead of them having to pull their car around and look out for traffic and hook the cables up. The cables are obsolete, in my opinion, because these jumpers are so small now and they are so powerful. You can jump your car four or five times with them, and they just fit in your glove box.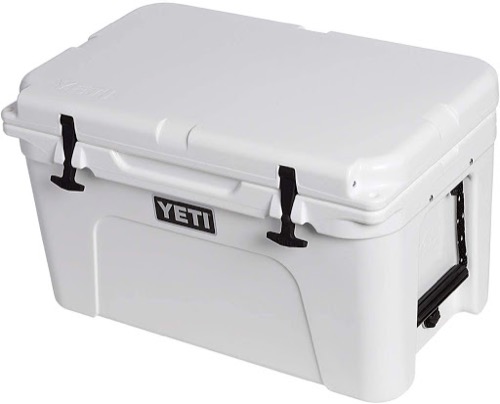 YETI Tundra 45 Cooler
There's two family companies that I spend way too much time and money with, and one is Apple and one is Yeti. I have a Yeti Tundra ice cooler, and this thing is a rock star, man. If you filled this thing to the top with ice and just shut it, and no matter how hot it is outside, the cubes will stay intact for about four to five days. If we take off on a Friday, we'll still have ice in there on Sunday. But its kryptonite is when you put hot stuff in it — that obviously works against the whole system. But as long as you're not putting anything warm in it, you'd be amazed at how long the ice lasts. You can sit on it. It's really rugged. You could stand on it. It doesn't really scratch that easily. The texture is like a really dense plastic. It's bear-proof, so you can put a lock on it, like one of those real thin cable locks that you would lock a bike up with, and then hook it to a tree.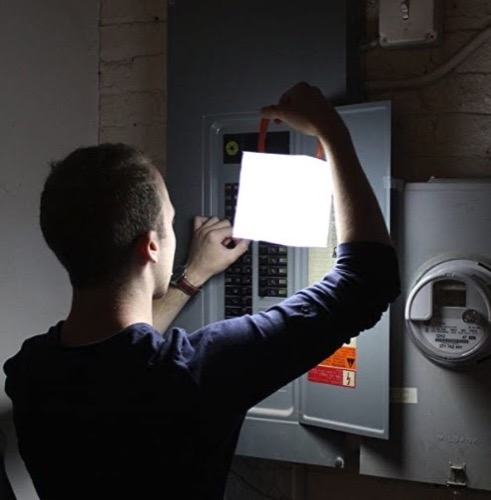 LuminAID Solar Inflatable Lanterns
This is a light in an inflatable bag. It is about the size of a book and it solar. When you fold it it will fit in your back pocket. It has two modes for brightness, a bright and then a dimmer version of the bright. It's got a handle, and it's durable. I got mine in a goody bag. I ended up buying about 15 of them. I took them to Africa. I was doing helping a team make a documentary about the nomads. My intention was to give them away to people that I felt like, "Oh, I like you. I want to make you happy, and here's an American prize just for making me smile," or whatever. I ended up learning that a lot of women perish, along with their kids, in childbirth; a big reason is because there's no light. And so, I ended up giving almost all those bags to women. I took a bunch of pictures, and I get thank you emails all the time; not all the time, because they don't have any digital access, but they're very grateful, and they still have them, and we ended up getting more to send to them.
About I Think Therefore I Question: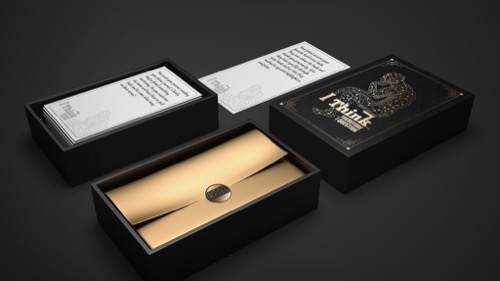 I have created a conversation deck. A card game entitled: I Think Therefore I Question. It's more than just words on paper. More than manufactured questions generated by co-workers in a think tank. This deck is an expression my cumulative lifetime of experiences, interactions, and friendships amassed on a beautifully designed deck of cards. 60 cards, with 60 thoughtful if not eccentric questions crafted to mine entertaining, unexpected answers, interesting conversations, and a whole lot of fun. The questions in this deck are thoughtful and sincere. I don't move through the world presenting crass topics in the interest of shock value. Enter with an open spirit and you will learn a little something about yourself, too.
We have hired professional editors to help create our weekly podcasts and video reviews. So far, Cool Tools listeners have pledged $390 a month. Please consider supporting us on Patreon. We have great rewards for people who contribute! If you would like to make a one-time donation, you can do so using this link: https://paypal.me/cooltools.– MF
07/24/20