Podcast
Dave Rome, Gear Editor at CyclingTips.com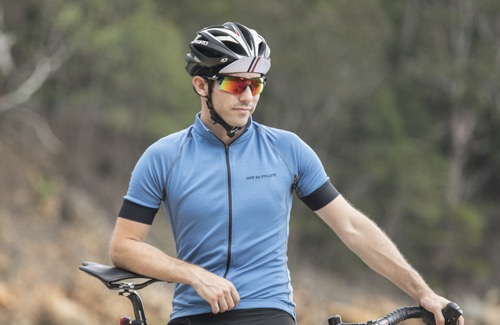 Cool Tools Show 179: Dave Rome
Our guest this week is Dave Rome. Dave is a gear editor and content strategist at CyclingTips.com, a premium online cycling publication with the mission to share the beauty of cycling. Dave was a previous editor at the UK publication BikeRadar.com, and has been involved in the bicycle industry for over the past decade. As a bike mechanic, Dave is a self-confessed tool nerd, and often writes in-depth reviews and features about hand tools for DIY cyclists and mechanics.
Subscribe to the Cool Tools Show on iTunes | RSS | Transcript | Download MP3 | See all the Cool Tools Show posts on a single page
Show notes:


PB Swiss Rainbow Hex Keys ($80)
It's a Swiss company that make these. Basically when you're working with bicycles, hex keys is sort of the number one tool that you need to use. Much of the bike is built with Allen key bolts and you get a lot of use out of these tools. PB Swiss in my opinion make one of the finest options. They do one which is powder coated in basically a rainbow of colors. You can pick the size that you need without really having to look. You can just sort of know the color that you want. For example, I know that the five millimeter, which I use, is orange and the four millimeter is yellow and the six millimeter is red. It's really easy and quick to grab the one you need and just get turning those bolts. I've yet to break one. Amongst a lot of pro mechanics they're commonly considered the most durable hex key going, so you know I've had my set for five or six years, whereas in the past I'd normally only get a year or two out of a set of hex keys. They are not cheap, but they should last a lifetime. I mean they are made in Switzerland, they're made with a very high quality stainless steel and they're lovely to use.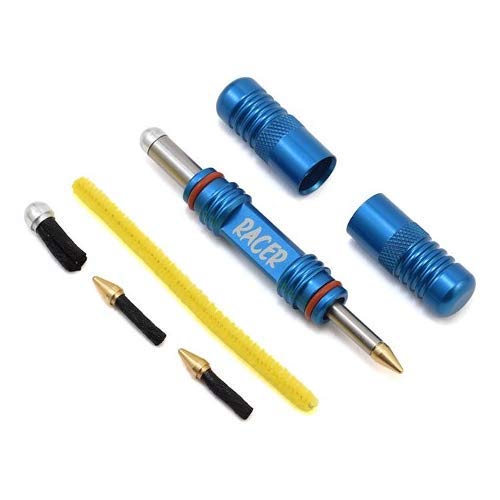 Dynaplug Racer Bicycle Tire Repair Tool ($48)
This is an American-made product, Dynaplug is the brand, out of California. Basically they're like these little CNC aluminum machines … Maybe like a pen knife in a sense — They're very small, they fit in the palm of your hand and basically what they're designed to do is you jab them through a tire in the event of a puncture, and it leaves behind a little rubber worm that fills the puncture. These are designed for what we call tubeless tires. If you imagine a bicycle tire, normally has an inner tube inside of it. That inner tube is a rubber balloon, I guess? Normally when you get a puncture you only puncture that inner tube and it's a matter of replacing that tube. For tubeless tires it's much more like a car or a motorbike system, where the tire itself is airtight and is holding the air inside. If you puncture a tubeless tire, all you've punctured is that outside tire and normally it's quite easy to find the hole, because you'll just see the air escaping. More commonly people will use a liquid tire sealant inside their tires, so you'll actually see the liquid coming out or foaming out of that hole. This tool comes along and you just pull the end cap off and stab it through the tire and pull it back out and it leaves behind a plug.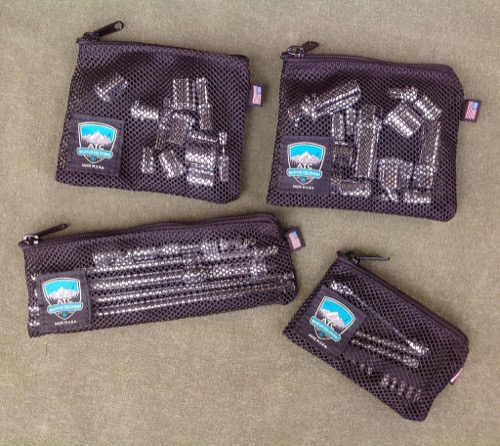 Adventure Tool Company Mesh Organizers ($35, set of 4)
These are from an adventure tool company out of Colorado, they're American-made and basically made to military specs. All the little pieces on them are super durable, and basically they're my favorite way of carrying whatever small item I need to keep track of. I know you've had a few of these products for various storage of USB cables or headphones or whatever they may be, and this is what I've found to be the best. They're mesh so you can see through them, but because of the material used they're extremely durable, extremely light and not overly expensive for what you get. I've got one with all my cables for travel, I've got a hard drive in it and a backup battery, and I just keep that and I can transport it, transfer it from bag to bag in a rush and I don't have to think about what I'm packing. I've got another one which has my camera card reader and another backup drive in it. I've got it fairly well organized, but it's just a nice little mesh item and better yet, I can use them in the toolbox as well, because that's what they're really made for.

Dualco Grease Gun ($18)
I've had one for I'm going to say 12 years now and I'm still on the first one. Basically it's a small handheld grease gun that you fill up with whatever grease you like through the bottom and it's got a little pump-action button that when you press the button, the grease comes out of this needle-like tip. It's a very precise applicator for whatever grease you want. It's not too large, it doesn't take a huge amount of grease but I've found it to be just about perfect for where you need to put grease into a tight spot without making a mess. You can get different-size needle tips for it as well, you can get a longer one if you need it. It's an all-steel construction and I've found it to be extremely durable, very easy to use.
Also mentioned:
CyclingTips Podcast
I've just begun working on a series of podcasts with my company Cycling Tips, and we're basically going deep dive into all worlds of tech, currently doing a podcast about what bike weight means, for those that count grams of their bike, that's sort of what I'm getting hyper-focused on at the moment.. It's been wonderful for my inner nerdery.
We have hired professional editors to help create our weekly podcasts and video reviews. So far, Cool Tools listeners have pledged $400 a month. Please consider supporting us on Patreon. We have great rewards for people who contribute! If you would like to make a one-time donation, you can do so using this link: https://paypal.me/cooltools.– MF
06/14/19