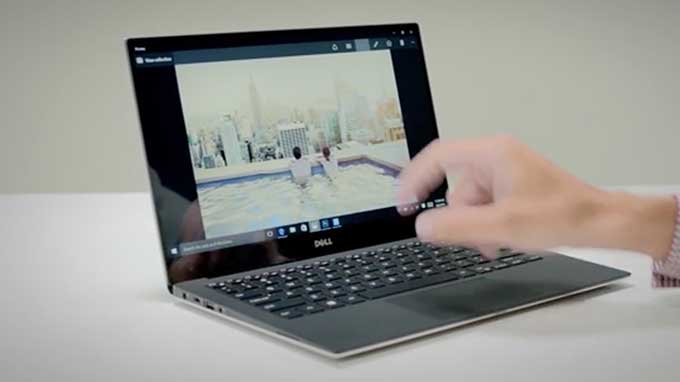 Smallest 13.3-inch laptop
I used to run an IT department and buying computer hardware was part of my job. It was very rare for me to become excited by any piece of hardware. The Dell XPS13 excites me. There are laptops available for half the price. But I am much, much happier with this one. It has won all sorts of Editor's Choices, Best Ofs, etc. It is my constant companion. I may use it more than my phone.
Description:
It is the style of laptop known as an Ultrabook: decent power, but thin and light. This one is actually lighter and smaller than a MacBook Air. But with a large screen and full-size keyboard, it is capable of real work.
Features:
The really great things about this laptop are:
Unusually large screen for the size. It has a 13.3″ screen in a body that might usually take an 12″ screen. The screen has an unusually skinny bezel or frame. It is hard to imagine one much thinner.
Solid-state drive (SSD). That isn't uncommon for laptops, but it does help make the laptop quieter and more resistant to impacts. It also improves battery life. You can choose a 128 or 256 GB drive. It is also lickety-fast. Booting is instant. (Did you know that hard drives make a bigger difference to perceived speed than the processor?)
It is silent. There is no fan noise I can discern, and with the SSD, it usually doesn't need a fan anyway.
An excellent screen. Two resolutions are available: 1920 x 1080 and 3200 x 1800. The lesser resolution is more than enough, and some Windows features still are defined pixel-by-pixel, rather than with vectors or some such. That means that the smaller the pixel, the smaller (not sharper) those particular elements will be.
Good keyboard and touchpad. The touchpad is large and sensitive, and has multi-touch (multi-finger gestures) and integrated buttons Supposedly the Air's touchpad is slightly better, but it works great for me. The back-lit, chiclet-style keyboard is full size, with arrow keys in the usual inverted-T. Key travel is plenty (at least for me.) The palm rests are large and flat, with "soft paint."
Terrific battery life. I can get at least 9 hours out of a full charge, and sometimes 12.
Light weight. At 2.7 pounds, it is light enough to get lost in my messenger bag.
An ultra-cool machined aluminum case, a lot like (dare I say it?) the MacBook Air's. (It isn't quite a clamshell; a slice of black matt plastic/carbon fiber is visible between the two aluminum shells when closed.)
Options:
Processor: It is available with i3, i5, and i7 processors.
Memory: 4, 8 or 16 GB — Screen resolutions of 1920 x 1200 or 3200 x 1800. Get the lower resolution. It is sharp enough, and improves battery life. There is also a touch-screen option, which I don't see the point of.
Hard drives of 128 or 256 GB.
Downsides:
SSDs are expensive, so they tend to be small. An external hard drive is an option if you want to carry around your 400 CD's worth of music (as I do.)
Because of the thin bezel, the webcam is down near the keyboard, and to the left. That might mean the people you are video-chatting with get to peek up your nostrils a lot. A clip-on webcam is an option (though make sure it will fit on the screen's very thin bezel.)
Cost. It is just a bit cheaper than a MacBook Air with similar specs, but it still isn't cheap. And it doesn't seem to drop in price, perhaps because of all the attention it has gained. Instead, the models are continually updated, which keeps the price relatively constant. The i5 with lower res, non-touch display, and 8 GB ram is $950.
Summary
The Dell XPS13 is a fast, silent, capable laptop that boots instantly and weighs nothing, and beats a MacBook Air in every way (though sometimes by a small margin) for less money. I love it.
12/27/17