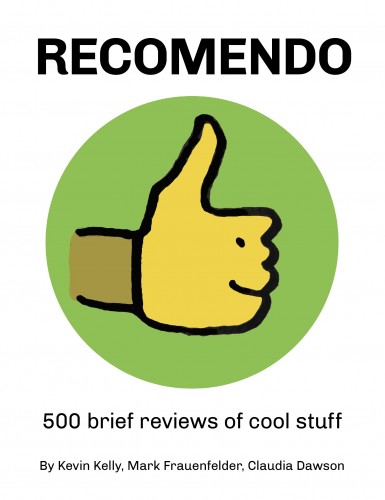 Downloadable, searchable PDF
The Cool Tools website focuses on handy, useful, proven tools. But a lot of great stuff that Mark and I come across are not really tools. We created the Recomendo email list for this purpose. Every Sunday we mail out 6 very brief recommendations of cool stuff: places we love, people to follow, great things to eat, good movies, fantastic podcasts, cool tips, short cuts, favorite items, and many other suggestions. This newsletter, Recomendo, is free and has over 20,000 subscribers. Sign up here.
Last year we took the best of our first two years' recommendations and put them into about 100-page book. The book (available on Amazon here) is made to be browsed. You can flip through it in any order and most folks will find something of interest on every spread. It is an easy read.
For the benefit of international fans, and for those who don't want paper books, we have created a digital version. It's a downloadable searchable PDF, in full color (the paper book is only B&W), weighs nothing, and is available instantly for only $1.99. We priced it so that anyone could afford it.
If you do get one, let us know how you like this format. (We don't have plans for a Kindle version yet, but maybe in the future.)
01/13/19