Aural
Mpow M5 Bluetooth Headset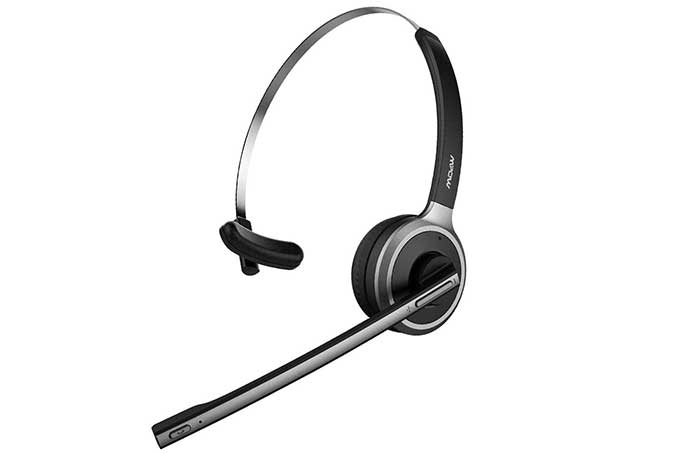 Wireless over head earpiece with noise reduction
I spend a ton of time in the office on video and phone calls. Not surprisingly, I've spent a ton of time trying different headsets. After years of disappointment (looking at you, Plantronics Voyager Legend) and inconvenience (Plantronics EncorePro) I typed "trucker Bluetooth headset" into Amazon. I mean, truckers spend all day on the phone in a noisy cab, so maybe they know what they're doing? At just $20, the Mpow M5 was a cheap risk.
Tl;dr: These meet or exceed the voice/video/VoIP performance of every other headset I've tried.
We ran a test at the office this morning. There are about a dozen people in an open environment talking to each other and on phone calls. We also have an Echo playing some "western country funk" in the corner a bit louder than I would prefer. We did a video chat, and my colleagues reported they could hear nothing except my voice, and that was crystal clear (I had to turn down the gain slightly within the Zoom app). I could also pace about 20 feet from my desk before the audio got crackly. Things were clear on my side, though there isn't anything to block ambient noise. We all agree they sound better then elsewhere-top-ranked Jabra Evolve 75 (which is over 10x more expensive!).
01/14/19
Mpow V4.1 Bluetooth Headset/Truck Driver Headset ($22)