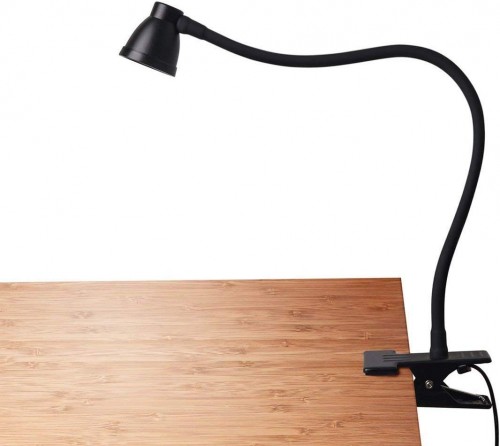 Recomendo: issue no. 183
We want to hear your recommendations! Tweet us @recomendo6.
Drawing lamp
My daughter needed a lamp to light up her drawing board, so I bought this $15 CeSunlight LED clip-on lamp with a flexible neck. She can adjust the brightness and color temperature and to provide the ideal illumination for her work. — MF
A website of untranslatable words
I enjoy browsing this website of 500+ words that don't translate, because I'm always intrigued by the concepts I had no idea existed, like "qarrtsiluni," a North Alaskan Inupiatun word for sitting in the darkness, waiting for inspiration to strike you, or " razbliuto," a Russian word to describe the feeling for someone you used to love but no longer do, or "vellichor," which I think may be made up but is a much needed word to address "the strange wistfulness of used bookstores." It's weird how once I learn a word for something I was hardly aware of before that I can instantly recall feeling it in the past. I would like to know the word for that. — CD
Failing, while being right
While failure is to be avoided, no teacher is as powerful. The tech startup General Magic failed big time, but it was also one of the most influential companies of all time that no one has heard of. Its all-star team of tech wizards invented the smartphone 15 years too early. General Magic is a fantastic documentary about the dilemma of dreaming big versus paying attention to reality. It's now streaming on Amazon Prime ($0.99). — KK
Delightful Twitter feed
For my Twitter feed I like following people who surprise me, and ideally, delight me. (Outrage is exhausting.) No one reliably surprises me with delight as much as Kurt Kohlstedt, director of the 99% Invisible podcast. His Twitter feed delivers a steady stream of unexpected discoveries and insights. — KK
Excellent indie movies for free
My Los Angeles Library card entitles me to 8 free movies on Kanopy a month. Your local library probably has a similar Kanopy offering. It's like Netflix for classic, foreign, documentary. and indie films. Visit the site to see what they have. — MF
Important life lessons thread
Julie Zhuo, Product Design VP at Facebook, asked "What's your most important life lesson that you wish you learned ten years earlier?" and Twitter answered. My favorite replies were "Better understand your inner child issues so that your subconscious becomes conscious." — @AmandaMGoetz, and "The grass is always greener because it's been fertilised with bullsh*t. Enjoy what you have." — @pTah_XV. Here's the full thread. — CD
Sign up here to get Recomendo a week early in your inbox.
01/26/20