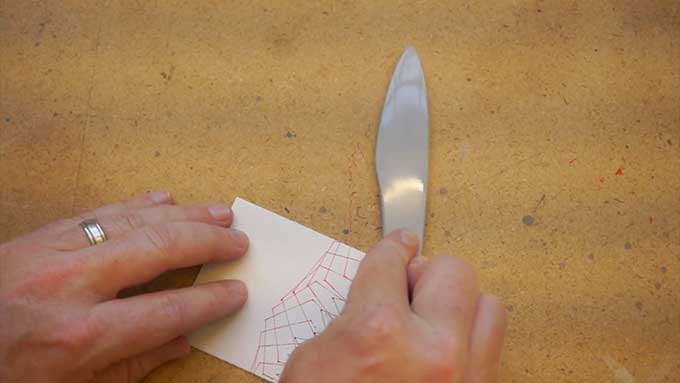 Cheap plastic bone folder that lasts forever
This $7 tool sounds gruesome, but it's actually an old fashioned book binding tool that's very handy for working with paper and even cardboard. They used to be made from cow bones, which is how it gets its name, but modern ones like this are made from plastic.
The bone folder excels at two things. #1: The narrow, blunt tip is the perfect shape for scoring or creasing material without cutting it. If you don't have one, thicker materials like cardstock or construction paper will have a clumsy looking fold. But if you score it and fold away from the crease, things start to look really legit.
This also helps with tearing paper, if you want a more natural edge to your paper. Give it a good score or two, fold it, and tear it. It's also handy for shaping cardboard.
The second thing this is good for is flattening your folds. Especially if you're type-a about this stuff, using your hands introduces dirt and oil and is hard on your hands after a while. Using rulers to flatten folds tend to leave marks behind or create jagged creases.
The smooth, rounded sides of this thing just glide right over folds. In general, if you're doing a lot of paper folding — whether it's sending out wedding invitations or making your own zine — it feels good to have the right tool for the job. And at $7, even if you just need it for one task, it's money well spent.
11/14/17
(Cool Tools has a YouTube channel with many more tool reviews — editors)
EK Tools Bone Folder ($5)