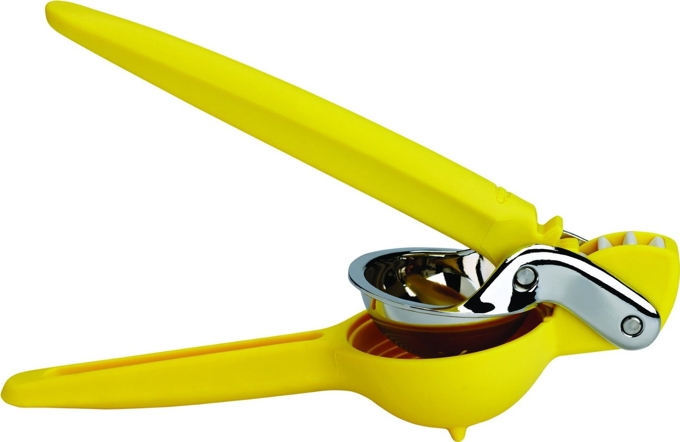 Squeeze a lot of juice with ease
After using the FreshForce Citrus Juicer by Chef'n daily for over two months I can unequivocally state this is the best handheld juicer I have ever used. It is easier to operate, more reliable, requires less effort, and produces more juice than any other. A single FreshForce Citrus Juicer replaces two different size cheap juicers and does a better job than either.
During twenty-five years of researching and making cocktails (my main use for citrus juicers) I found most handheld juicers are cheaply made. Hinges break, paint chips off, and in two cases, the (pot?) metal handles snapped. Further, the design of cheap juicers leaves much to be desired in terms of efficiency and ease-of-use. A cheap lime juicer is too small for large lemons, and a cheap lemon juicer is often too big for small limes.
The Chef'n FreshForce Citrus Juicer design addresses all these issues.
The bowl interior has a "stepped" surface. This permits squeezing small limes (think key lime) up to large lemons. The cut edge sits firmly on a step instead of sliding down into the bowl, allowing better juice extraction.
Clever gearing provides additional leverage to extract more juice. The gearing is very similar to highly-regarded Fiskars garden loppers.
Hinge pins are large (5/16″ diameter) hardened steel pins, replacing the thin (1/8″) junk pins used in cheap juicers.
Handles, gears, and main bowl are made of strong injection-molded plastic which feels very similar to Delrin.
Handle shape is very comfortable even when squeezing hard.
Drawbacks?
The FreshForce juicer does not appear to be user-serviceable, but Chef'n has a limited lifetime warranty.
The FreshForce juicer is approximately twice the price of "enameled" or "cast aluminum" handheld juicers. ($20 vs $9)
In my opinion if you use a tool often and that use is important to you, buy the best tool you can afford. The FreshForce Citrus Juicer is worthy of that label.
11/9/15