Dwelling
Garageio Garage Door Controller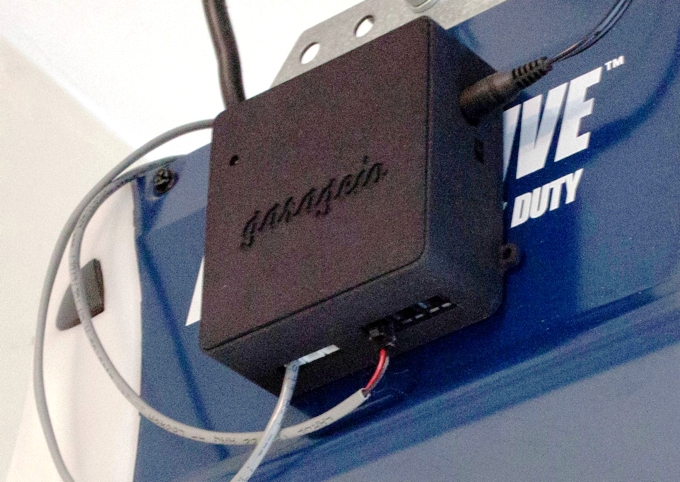 Control your garage door with your smartphone
I found Garageio on Fundable.com. Even though it was something I never knew I needed, I realized that using the old fashioned garage clicker that came with our Genie Model 1024 Pro could be better. Mainly, the biggest drawback of the traditional remote control is that it only works within sight of the garage door. Secondly, keeping the clicker either on the sun visor or in the glove box of the car is a security risk as any thief in the neighborhood could break into the car in our community parking lot (we live in a townhouse in a crowded Northern Virginia suburb) and use it to gain access to our garage and potentially even farther into our home. After using the Garageio for about six months, I thought it was ready for review.
First, a bit about installation: The Garageio allows you to connect up to three separate garage doors. We have a single garage door, so I can only comment on installing it for one door. The Garageio website claims that you can install it in 15 minutes. I'd say that as long as you spend 10 or 15 minutes before you start the installation process and plan where you are going to mount the wires, get familiar with your particular model of garage door opener, and watch the online install video, then that is an accurate claim. Everything we needed to successfully install the Garageio was in the box except the step ladder, the screwdrivers (a Philips and a flathead), and our iPhones. If you are well-organized and are handy, you could probably install this on your own, but my wife and I tackled this together and we had everything installed within 20 minutes. This included having it connected to our wireless network via Wi-Fi and paired with our iPhones. I won't go into detail on all the steps other than to say that their installation videos are comprehensive, nicely produced, and easy to understand and to follow. Connecting the Garageio unit to your network and pairing your phone is also breeze. We have iPhones, but the Garageio is advertised as working with Androids, too.
Next, a bit about operation: The Garageio does what it is designed to do — it allows you to open and close your garage door via your cell phone app or your web account. The app is simple. It shows a garage door. You swipe your finger up, the garage door opens. You swipe your finger down, the garage door closes. We find it to work pretty reliably, although sometimes it has a synching issue in that sometimes the app might show the door being closed when the door is actually open. This is easily corrected by either swiping the garage door up until it is synched with the actual door or by closing the app and restarting it. If the door is left open, the app will notify you that the garage door is still open. However, it does not allow you to adjust the length of time before it notifies you. This is great for those rare times when you drive away and forget to close the door. Also, their website advertises that you can see who accessed your door and when, but you can only see this through the web portal, not the phone app. I'd like to be able to see these activity reports on my phone, but this is far from being a deal breaker. Finally, you can grant up to ten users access. I've never tried to add more people than my wife and myself, but that was easy enough so I assume that adding more would also be easy.
The Garageio has been most useful to us for allowing folks like repairmen and cleaning people to access our home during the day while we are working. We simply have them call us when they arrive and we open the garage door for them allowing them access to the house. When they leave, we ask that they call us again and we close the door.
A new feature of Garageio as of October 2014 is their If This Then That (IFTT) channel. They have some sample recipes you can use such as "If I arrive at my house then open my garage door" and "If my door is opened or closed then send me a text message." I have yet to try these, but I appreciate that they are developing new ways to extend the usefulness.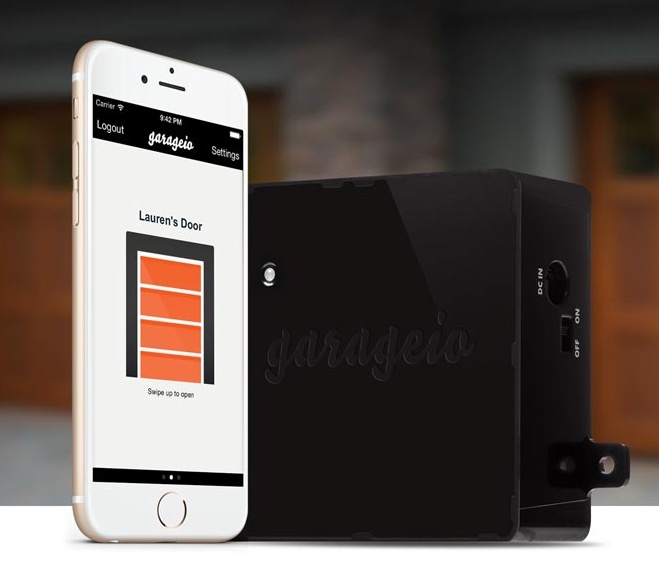 11/20/15