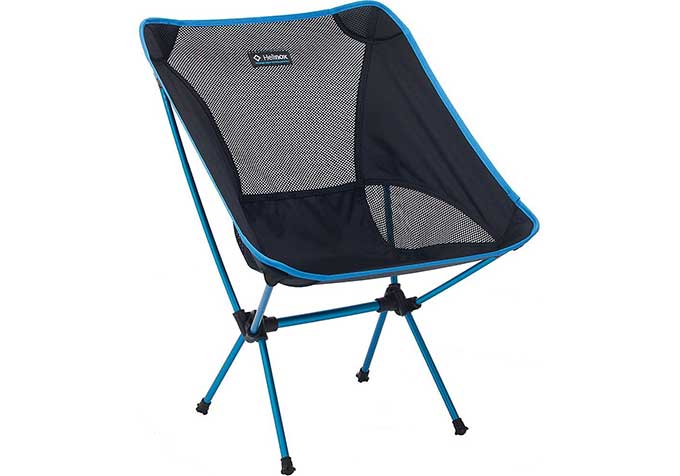 2-lb chair supports can support up to 320 lbs
I bought this camp chair after visiting a friend who had one. He was a pretty large guy, weighing in at about 260 lbs. As he set up his tiny aluminum pole structure and began to pull the fabric onto the frame, I decided to watch the ensuing catastrophe. But instead of collapsing under his weight, the chair bore him up without any hint of distress. He noticed my interest and invited me to sit in the chair (after he got out, of course.) I tentatively settled in and was absolutely amazed at how solid the chair felt, not to mention how comfortable it was. I knew I had to have one.
This chair is not cheap! ($100) But it is built to last, extremely compact, and very easy to assemble because of the amazing engineering that went into designing it. My chair zips up into a small bag not much bigger than a football, so I keep it in the closet by the front door. Because it is so small, I find myself taking it along to events "just in case" I need a comfortable place to sit.
I have never been able to sit cross-legged comfortably, ever since I was a kid and I've never found a comfortable way to sit on the ground. But since I bought this chair, both of those issues are gone. It assembles in about 30 seconds. The aluminum tubing is all connected with internal bungee cords so the chair almost assembles itself. The fabric part takes a little effort to get attached correctly, but if you follow the included instructions it's quite simple. When you sit in the chair, you'll find yourself quite low to the ground.
I find stretching my legs out in front of me and crossing them is the most comfortable way to sit. The only issues I've had are the feet sinking into soft ground and the wind taking it on short flights. The soft ground issue can be resolved with two short pieces of PVC pipe that easily fit in the included carrying bag. Other than sitting in it, I haven't figured out the wind issue. It does sit quite low to the ground, and I tend to sit cross-legged so sometimes my toosh falls asleep if I sit for too long without shifting.
The chair also makes a great conversation starter. Complete strangers often walk up and start asking questions about it. I usually offer to let them sit in it and enjoy watching them tentatively settle in, not believing it will hold their weight. If you're looking for something to sit in that is comfortable, light, super-portable and compact, you'll love this chair!
04/23/18
Helinox Chair One Camp Chair ($100)