Gardens
Homeplus+ 3 Arm Revolving Sprinkler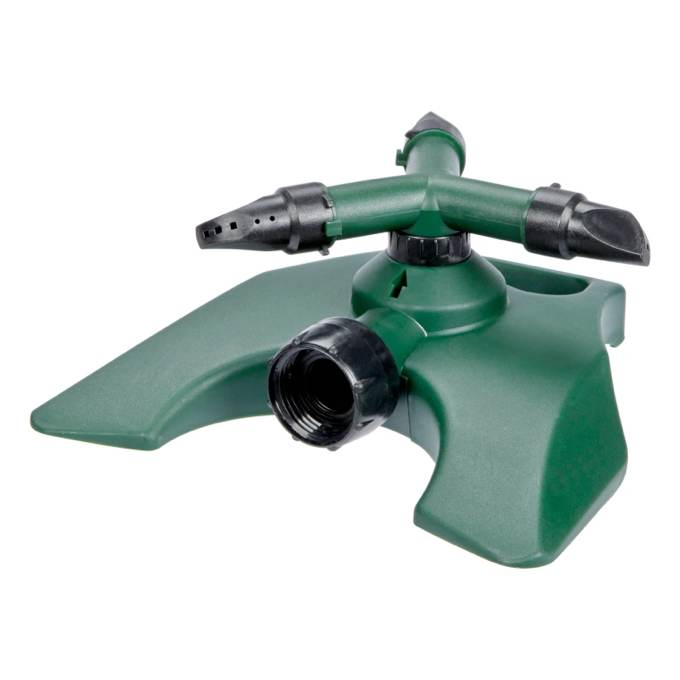 Cheap sprinkler resists mineral build up
I've gone through a lot of sprinklers over the last few years. Something about Florida's hard water will turn a $25 brass impulse sprinkler into a lawn ornament in just a few months. And it's pretty annoying to have something that has to be taken apart a couple times a year just to keep the far corner of the yard green.
In a fit of pique I bought the cheapest sprinkler I could find, thinking that replacement of something cheap was better than constant fiddling with something "better." This $5 rotating sprinkler, the Homeplus+ 3 Arm Revolving Sprinkler, is pretty amazing. And it works great, refusing to die or clog.
Each of the three nozzles at the end is easily rotated to adjust the diameter to be irrigated. The cheapness of the plastic is a virtue – no water deposits accumulate. The only thing that seems to make this fail is the slow degradation of sunshine if I leave one out all year, or if you accidentally step on it (oops).
After going through scores of different (and relatively expensive $20 to $50) sprinklers just to keep the lawn alive, this cheap and simple device is a wonder. Sometimes the simplest solution is absolutely the best. If you just need to do spot watering of your lawn or garden, save your money and try cheap and simple sprinkler.
This won't change your life, it's just a thing. But it's the best thing of its type that I've found.
07/14/16
Homeplus+ 3 Arm Revolving Sprinkler ($5)