Health
Honeywell UV Cool Moisture Germ Free Humidifier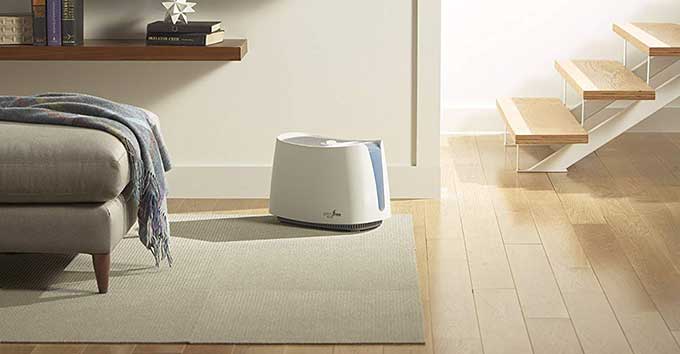 Add cool moisture to dry air
I work for a website that reviews humidifiers and this is the one I personally bought to use in my home: The Honeywell UV Cool Moisture Germ Free Humidifier. There are several reasons for that.
The first one is that my husband is allergic to just about anything in the air. This meant that I had less choice than the average person. Despite all the marketing hype and advertising, most humidifiers on the market right now aren't germ free. That means that the allergens, bacteria, and mold that love living in warm and moist places, such as a humidifier, can be sprayed into the air and find their way into people's lungs. Needless to say that this could potentially be dangerous for my husband, and even for non-allergic people thanks to the bacteria and mold. Of course, this risk can be mitigated by cleaning out the humidifier every other day but I wasn't sure that I wanted to do that. I wasn't ready to commit to being a humidifier parent and taking care of it that much.
The second reason was the feedback we got from our product testing team, who said that the Honeywell Humidifier was very quiet when running. As a light sleeper, even a soothing noise can become a problem at night. I can't even sleep with a fan running! So this was one of the most exciting things about the Honeywell for me.
Finally, there's the price. The Honeywell is available at a reasonable price, which is something I appreciate in everything that I buy for my own personal use. I don't mind paying for quality, but no one wants to overpay for something.
The Honeywell has impressed me right from the very beginning. We were getting into the winter season and the air in the apartment was becoming dry, along with my skin and hair. I left the humidifier running overnight and woke up feeling fresh and energized in the morning. The sound didn't bug me at all either. I've got the cool, humidified air that I need to live and breathe comfortably without the constant rumbling that most people assume they have to live with when using a humidifier.
The condition of my skin and hair improved within a week. I've started noticing that I'm not using as much facial cream as I used to before. I could wash my makeup off and forget to apply my night cream without any problem. There was a time I couldn't last a few minutes without it before my face would become too dry and uncomfortable.
The technology used in the Honeywell claims to kill 99% of harmful particles in the air and it comes with a replacement filter. Of course, I didn't check the bacteria level in my apartment myself, but I will say that neither my husband or myself had any colds that winter. I'm inclined to believe that the humidifier really did get rid of all those harmful particles after all.
It was pretty easy to maintain the humidifier too. The water tank can be filled and cleaned quickly. The humidifier can run for a full 24 hours on a single fill, which was music to my lazy ears.
Finally, it came wrapped up in a 3-year limited warranty. I purchased the Honeywell in confidence knowing that I was getting a humidifier that would last me for years to come, and do a great job during that time.
03/5/19
(3/19/2019: The author rewrote her review, answering several questions we asked her. — editors)
Honeywell UV Cool Moisture Germ Free Humidifier ($60)