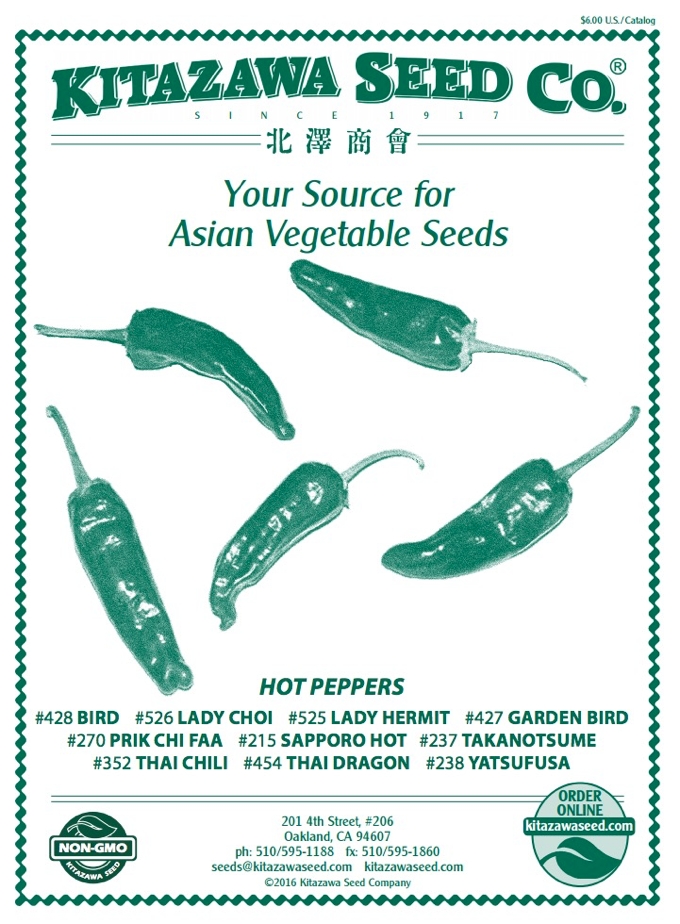 Specializing in Asian vegetable seeds
I first discovered Kitazawa Seed Company about a dozen years ago, via a seed display at my favorite Asian market. I was delighted to discover their even more exhaustive catalog and website. They sell seeds for an encyclopedic variety of vegetables and herbs used in Asian cooking. Their 48-page catalog is an education in itself, containing both commonly available plants like arugula, spinach, and cabbage, as well as obscure plants like Poha Berry, Kinh Goi, and Molokhia. There are 20 different varieties of Chinese Cabbage alone, subdivided into four different types.
Their catalog is simple and distinctive, green and black ink on manila paper, with a vintage feel to the design. They provide the Asian names for their plants in a rainbow of languages. There are recipes in the back of the catalog. All seed packets are $3.59 each, but they also sell bulk seeds upon request. They have a well-designed web site as well, with color photographs supplementing the lovely drawings found in the catalog. You can download a PDF of their catalog, though I prefer browsing through the beautifully-designed paper catalog, just for the sheer pleasure it brings.
03/25/16