Kitchen
Lock & Lock Food Storage Containers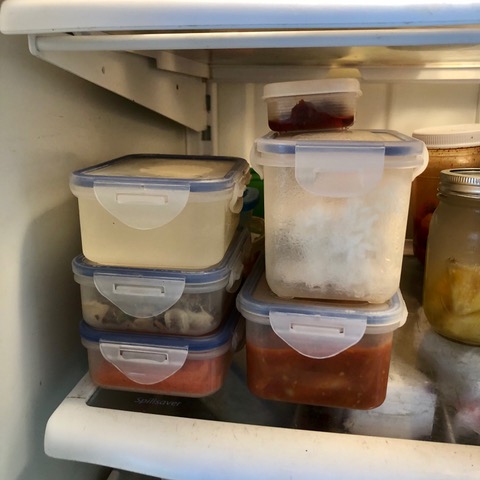 Containers in a variety of sizes use the same lid
[In a recent issue of our Recomendo newsletter, Kevin recommended Snapware Glasslock containers for leftover food storage. Cool Tools reader Todd Lappin emailed to tell us that he thinks Lock & Lock food storage containers are superior and explained why.– MF]
Both products have good lids that form strong, gasketed seals. But the Lock & Lock…
Is great in the refrigerator AND exceptionally good for travel or transport (such as bringing your lunch to work, picnics, potlucks, weekend trips, etc.)
Plastic, not glass, so can't break and it's much lighter
The lids have tabs for locking, not just a friction fit, for an even more positive, more foolproof seal
As a test, I have literally drop-kicked L&L containers containing wet, oily foods inside, resulting in no leakage whatsoever.
That latter confidence test is why L&L are the only food containers I will carry inside a backpack or carry-on bag. And yes, I usually bring one when I travel for inflight food en route and restaurant leftovers at the destination.
Again, my utterly baseless hypothesis is that all this comes down to a culturally unique use case: Lock & Lock is Korean, and Koreans routinely store and transport wet, fermented, yummy-but-pungent foods like kimchi. Plus it's a place where lots of people bring their lunch to work. This necessitates great seals and reliability.
So that's just basic mechanics. As a lifestyle bonus…
LocknLock also offers containers in a variety of sizes, many of which use the same lid. So in our house, we have lots of different containers with different capacities, but all our lids are the same size. MUCH easier to manage, store, and wrangle.
Likewise, that common size means they stack and store neatly and easily in the refrigerator. (See photo, with wet tofu storage at top left)
I've been using some of mine for 5+ years by now, and all of it still functions like new.  Well made!
08/6/20