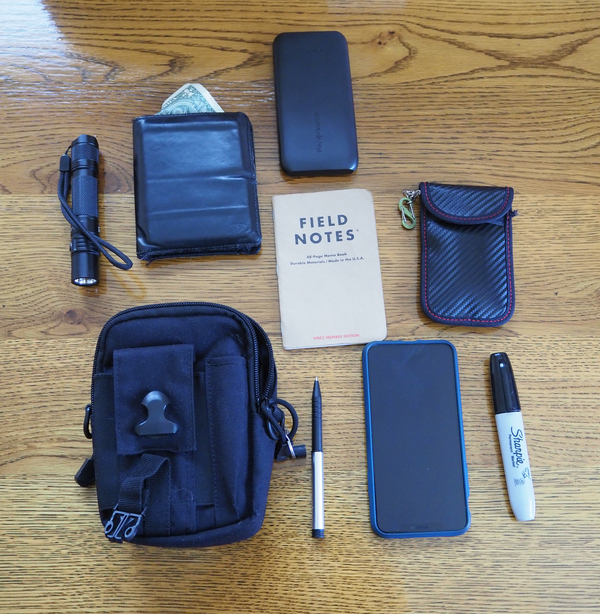 What's in my bag? issue #61
Mike Streetz is a new dad, home automation aficionado, electronics tinkerer/maker, and IT Consultant by day. He hails from Sydney, Australia, and is currently based in Los Angeles with his wife and son. You can find him on Flicker and Twitter @O_P.
About the bag
Tactical Molle EDC Pouch ($11)
I like this because it's big enough to fit my wallet, phone, keys, pen and notebook. I got the one that comes with straps because with that much stuff in it pulls down my pants. The cell phone pouches in the front and back are padded to protect the screen and it fits up to an iPhone XS Max. The placement of the straps isn't the best and the one I got frequently flips upside down if it's not weighted right, so be mindful of that and don't leave the zips open.
What's inside the bag
Sofirn SP31 v2.0 Tactical Flashlight ($37)
This thing is BRIGHT. It uses a standard 18650 battery and comes with a charger. It has multiple brightness settings, the low setting is really useful for not blinding yourself in the dark. It remembers the last setting it was on. I use it all the time for finding stuff I've dropped in the car, behind the couch or under a table. It's so bright you can use it for finding a tiny screw you've dropped in a shag pile carpet by looking for the reflection.
Nite Ize INKA Key Chain Pen ($12)
Nite Ize bought Inka and these pens were really hard to find for a while but I'm glad they are back on Amazon because I've subsequently lost a Fisher Space bullet pen in the meantime. These use the space pen refills but due to the screw on cap, this pen is less likely to fall out of your bag. Also has a resistive touch screen pen cap on the other side, which are making a comeback in the days of COVID and nobody wanting to touch the ones on credit card machines. People are saying in the reviews they are not as good as the originals made by Inka, I haven't had the new one long enough to say, but so far it seems good for the price, which is about half what the originals were.
Big Skinny Leather Hipster Wallet ($48)
This is the only wallet I've found which will hold all my cards, cash, and a tile slim without the massive bulge of most wallets. It looks huge but it fits in most pockets, and so far it's lasted me over 5 years. The card slots can get loose after a few years, but just jam some business cards in there. They have an RFID blocking version now too.
RFID blocking car key case
These are the cheapest ones I could find on Amazon and they absolutely work. If your car is parked close enough to your house that you can unlock it from inside then you need these to protect from thieves that use range extenders to pretend to be your key. They can open the door to your car, steal everything in it, and in some cases even start the car and drive off. We put our keys in these as soon as we get out of the car now.
Other items in photos:
08/5/20