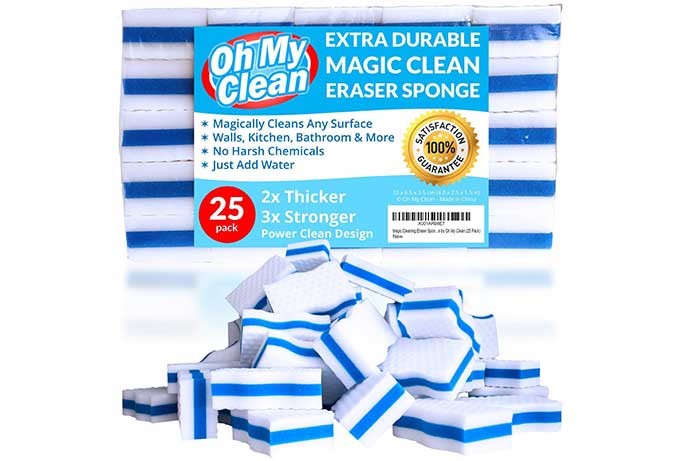 Multi-purpose scuff and stain removers
A 2007 Cool Tools review of Mr. Clean's Magic Eraser raved about its ability to remove smudge marks from walls that other cleaners couldn't touch. The price then for a 4-pack was $6, or $1.50 apiece. The current cost of a Magic Eraser 4-pack on Amazon is $3.57 (the in-store cost is about $1 higher). That's about $0.89 apiece.
For Prime members, Mr. Clean sells a textured, extra-durable ("50% Stronger to Last Longer") 4-pack for $5.34, or $1.34 apiece. Mr. Clean also sells a 2-pack of bathroom-scrubber pads for $2.97, or $1.48 apiece. It contains a soap/scum -dissolving chemical. There are now sellers of similar products in various quantities ("packs") for much lower prices, such as 50₵ apiece, or 40₵ each for a 100-pack. To see them, search Amazon for "melamine sponge."
Slightly more expensive (64₵ apiece in a $15.95 25-pack), but a better value, is an "extra durable" version with a stable, blue-colored middle layer that deters softening and crumbling. It also has a conjured (S-shaped) grip and a textured surface. It is sold by a couple of vendors, the one I prefer being "Oh My Clean," which is rated highest by Amazon reviewers at 4.6 stars.
If you're doubtful about paying $16 for so many of an unknown item, pick up a 4-pack of the Mr. Clean brand and test how often you find a use for them. Also, check out the uses described in numerous enthusiastic YouTube videos (and in comments on Amazon product pages). They can be found by searching for "melamine sponges erasers." Such uses include this (from a vendor): "Dirty old sneakers are white again. Scuffed up baseboards look like new. The coffee stain inside your favorite mug is gone." And this (from a user): "clean your car's interior, Door Panel, Dash, Console, Leather or Leather like Material, and Outside black trim to remove those stubborn wax marks around black trimming."
Caution #1: I suspect these melamine sponges — or at least the Mr. Clean alternatives — are subject to occasional glitches in production that lead to bad batches. For instance, one customer who complained about fragile sponges was sent a replacement package and reported that it worked fine.
Caution #2: P&G warns: "Test a small area with light pressure before use. Not recommended for the following surfaces: high gloss, polished, dark, brushed, satin, faux, bare/polished wood, copper, stainless steel, non-stick coating, or vehicle body." Some cosmetic damage will follow. However, it may be less noticeable or damaging (except in the case of an auto body) than the smudge the product removes. That's been my experience.
Caution #3: P&G also warns: "Rinse required for surfaces in direct contact with food."
10/16/17
Extra Durable Magic Cleaning Eraser Sponge , 25-pack ($16)