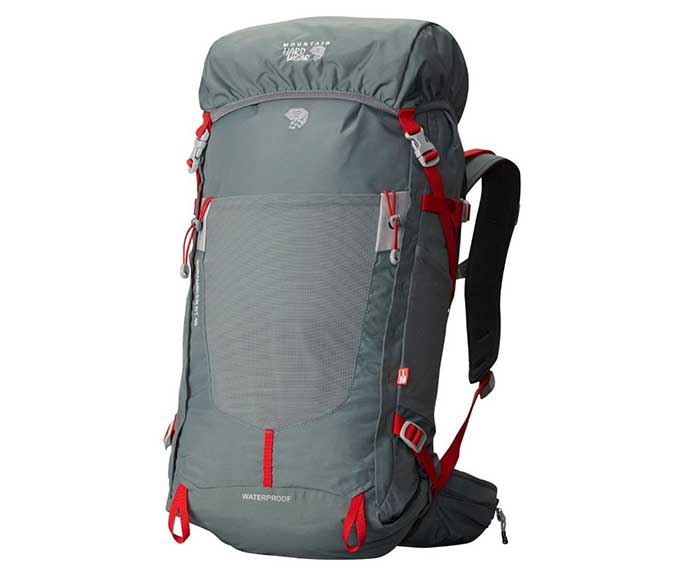 Backpack that seals out water
Ever since buying my Arc'Teryx Naos about 10 years ago, I've pursued a policy of buying only waterproof and watertight bags for my backcountry trips. It is truly liberating to be freed of pack liners, rain covers, dry bags, garbage bags, zip-lock bags, and all the other paraphernalia used to keep gear dry.
Unfortunately Arc'teryx has long discontinued the Naos series, and with my ever shrinking base weight, I've had to consider other brands and fabrics for weekend trips. The best alternative by far is the OutDry series from Mountain Hardwear. As a quick primer, OutDry is a waterproof membrane that is bonded directly to an outer shell fabric. Unlike polyurethane, water can't seep into the potential space between the two layers, and the membrane won't break down or delaminate with repeated creasing. Combined with a roll-top lid, their packs are completely waterproof and watertight.
There is now an entire series from 18 to 105 liters in alpine and hiking configurations, but I've personally been using the Scrambler RT40 for weekend hikes with great success. As an example, last May I hiked the Grand Canyon rim-to-rim and accumulated quite a bit of dust and sweat by the end of each day. Just before reaching camp I would jump into the creek, pack and all, and ended up with clean skin, clean pack, and a dry sleeping bag. After two years and countless hikes in rain and sleet, I have yet to find a drop of water in the pack.
The only real fault with the RT40 is the ridiculously small hip belt pockets, but that's nitpicking at what is otherwise an outstanding pack. If you're an avid backpacker, do yourself a huge favor and step up to an OutDry pack. Your pack will weigh less, you will hike farther, and you will never, ever, have to worry about a wet sleeping bag again.
03/13/17
Mountain Hardwear Scrambler RT40 Backpack ($180)