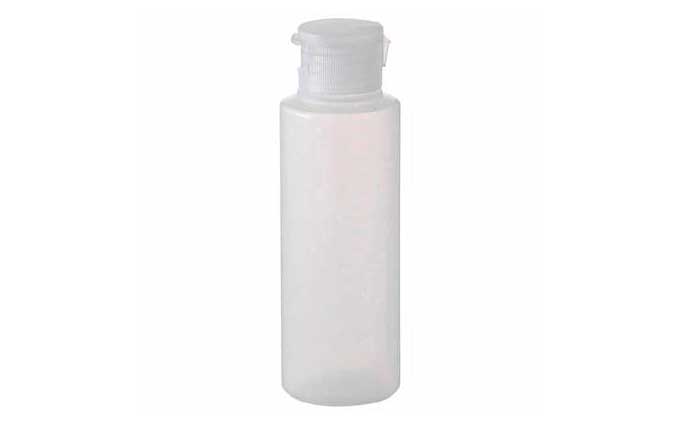 Bottle for travel liquids
Seasoned travelers are well aware of the 3-1-1 rule regarding carry-on liquids. Personally, I feel "travel size" toiletries are grossly overpriced and hard on the environment so repackaging liquids into smaller reusable containers is the way to go. The problem is that bottles from big box retailers are of terrible quality — they always leak or the lids eventually break (GSI bottles are notorious for this).
GoToob bottles are popular, but aside from being quite expensive the silicone is incompatible with a surprising number of liquids. Nalgene sells high-quality HDPE bottles, but the rigid walls and large opening make dispensing controlled amounts of liquid impossible. I've also tried reusing the bottles from travel size toiletries, but since few of them are transparent, identifying the contents and cleaning the inside is a hassle.
I discovered MUJI when they opened in Toronto in 2014 and quickly became enamored with their collection of small travel containers. Their 100mL PE (polyethylene) bottle is absolutely perfect: snap-top lid, squeezable, transparent, and lightweight. Over several years of traveling I have yet to have one leak or break. There are also other sizes and shapes available, as well as rigid PET bottles and cream cases, depending on your needs.
The compact PP (polypropylene) cases are ideal for Q-tips, pills, and other non-liquid items. To make life even easier, MUJI also offers funnels, bottle brushes, and other accessories designed for use with these small containers. Everything is devoid of garish branding and is environmentally friendly with minimal or no packaging. I can't speak for their entire catalog, but all the travel goods I've bought so far so are made in Japan and criminally affordable.
I could write an entire Cool Tools book on all the neat things I've bought there, but I feel these travel containers exemplify what MUJI does best. Now that all my are toiletries are neatly packed in easy-to-use containers and I don't have to worry about finding a mess in my suitcase, traveling is that much less stressful.
12/21/17
PE cylinder bottle with snap cap, 100ML ($3)