Tools for Possibilities: issue no. 22
Once a week we'll send out a page from Cool Tools: A Catalog of Possibilities. The tools might be outdated or obsolete, but the possibilities they inspire are new. Sign up here to get Tools for Possibilities a week early in your inbox.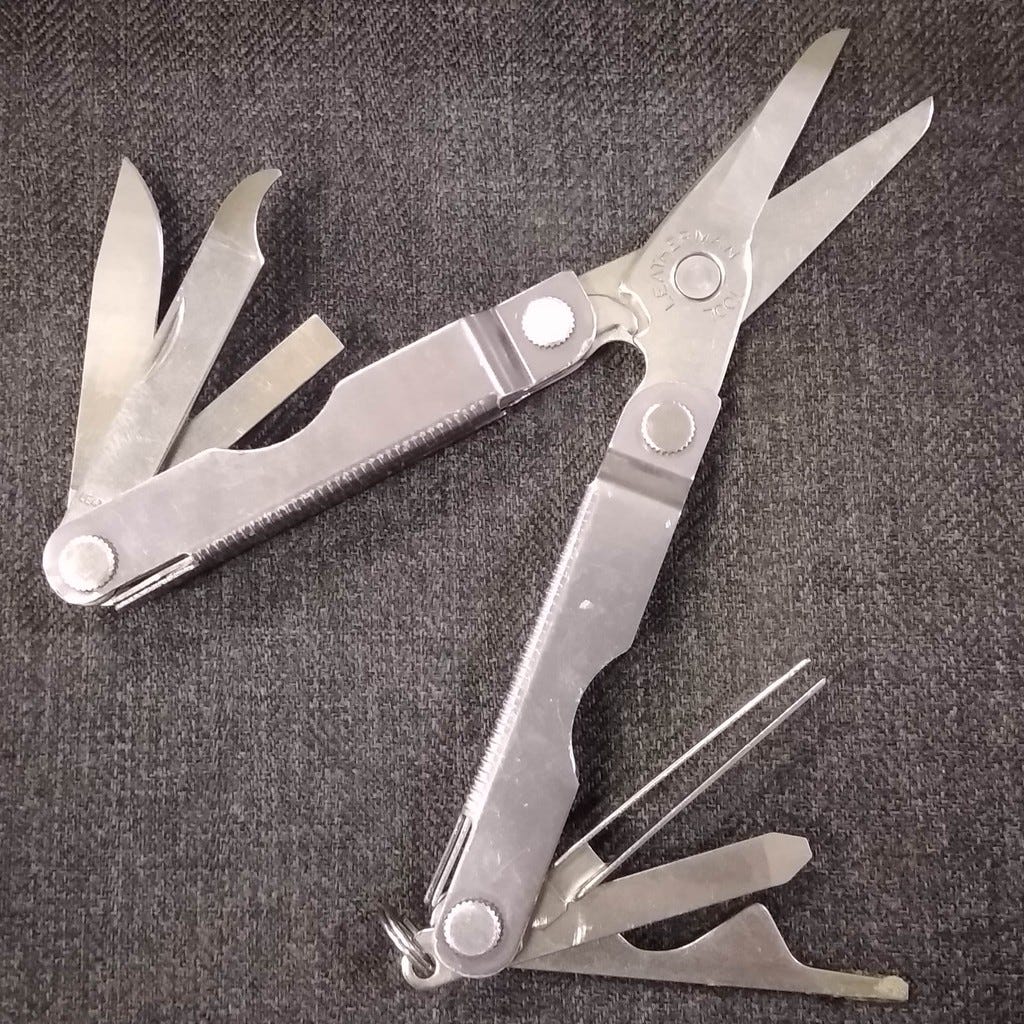 Classic urban survival multi-tool
Smaller than most pocket knives, and with the ability to unfold into a completely handy pair of snips, the stainless steel Micra contains two functional flat-blade drivers (micro and "regular") and a #2 Phillips-equivalent screwdriver, so I can achieve most anything I need to do inside a server closet or at a customer's desk. You could opt for the Wave, which features more tools. However, the less expensive Micra is lighter (1.75 vs. 8.5 ounces) and smaller (2.5″ vs. 4″), and overall it's much more of an urban survival tool. It comes with tweezers, scissors, nail file, and a bottle opener, but the features that make it the most valuable to me are the "Phillips" blade (a flat blade shaped to fit into a Phillips head) and the micro flat driver blade. I'm constantly opening stuff – packages from FedEx (knife,) packages of sunflower kernels (scissors), laptops (micro screwdriver,) data racks (Phillips) and the like. This tool has everything I use on a daily basis in a simple, little package. — Steve Sussex
---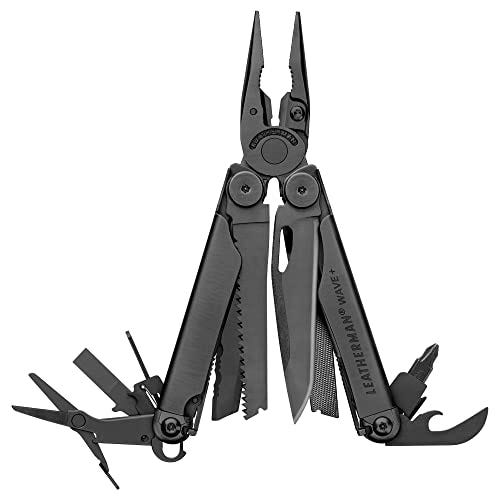 State-of-the-art multi-tool
I bought this tool about four years ago in preparation for a backpacking trip around Australia and it has been on my belt ever since. I have used it in every camping situation imaginable. Between the locking straight-edge and serrated blades, I have been able to cut everything from thin sheet metal to steak to wrist thick hemp rope. This tool was a first for me in that the saw blade actually cut wood with ease. Unlike many other models, the blades are on the outside of the tool so you don't have to unfold the whole thing to get to them. This makes it less awkward to use and even allows one-handed use in a pinch. Another nice feature is that the edges of the plier handles are rounded, so they don't dig into your hand when you need to apply a little force. The scissors, can opener and screwdrivers have never let me down. I have found the Wave to be just as useful indoors. I take apart computers on a daily basis, and it is usually all the screwdriver I need, although it is generally too clunky for tight spots. After four years of heavy use it's still going strong. — Travis Seay
---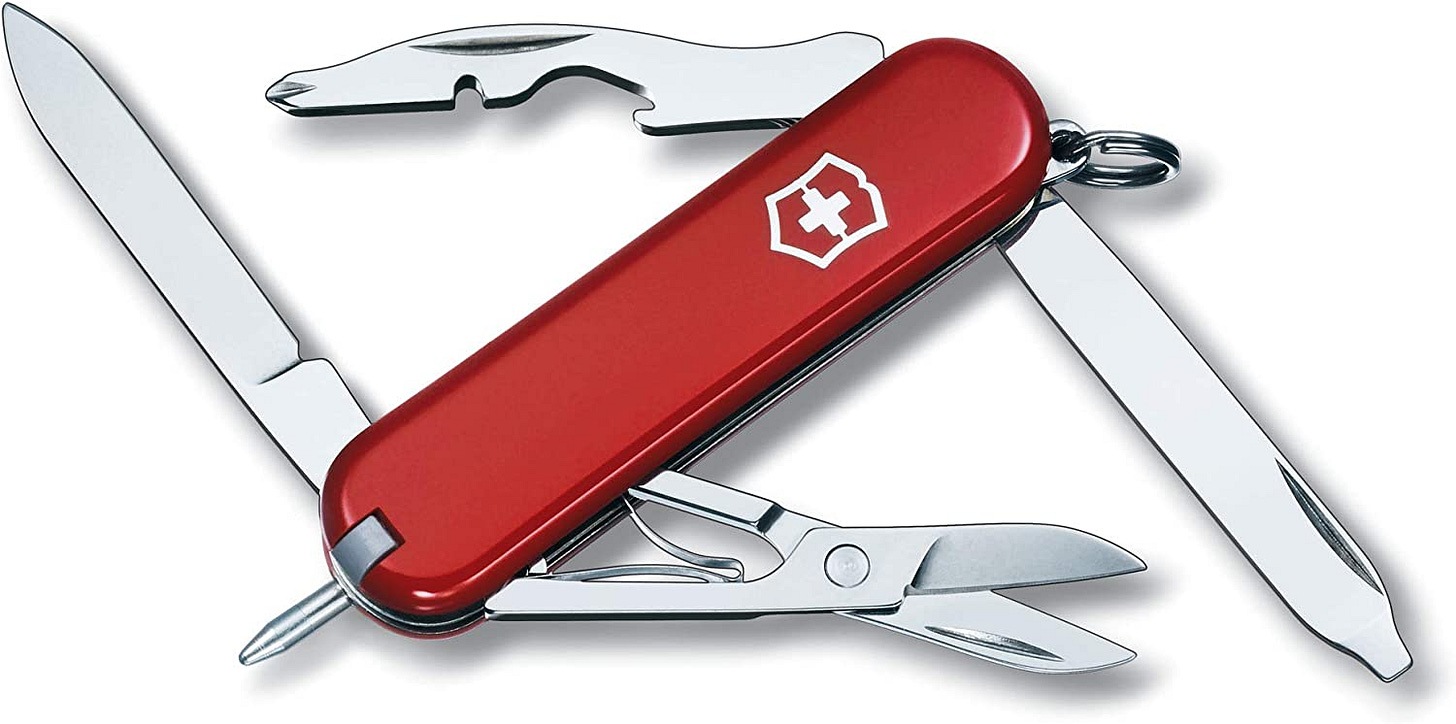 The classic pocketknife
Victorinox Swiss Army Manager Pocket Knife
The Manager Swiss Army Knife has been in my pocket for nearly 2 years. This compact tool has all the useful stuff you expect from the line of Swiss Army knives: blade, scissors, tweezers, file, bottle opener, and separate flat-head & Phillips-head screwdrivers.
What makes it a must-have is the retractable ballpoint pen. It's smooth writing and hasn't dried out on me in the past 2 years. I've taken meeting notes, written checks, and signed receipts. Just extend the combination Philips-head / bottle opener tool for a more comfortable grip during extended composition sessions.
The Manager comes to the rescue time after time for occasional writing needs and tiny DIY tasks because it's always in your pocket. (I just changed the batteries in a Nerf gun with the Phillips-head screwdriver.) It's more comfortable to carry in the pocket than a normal pen and more useful, too. — Sean Singh
The Midnite Manager model comes with a built-in LED flashlight in addition to a pen. — Mark Frauenfelder
---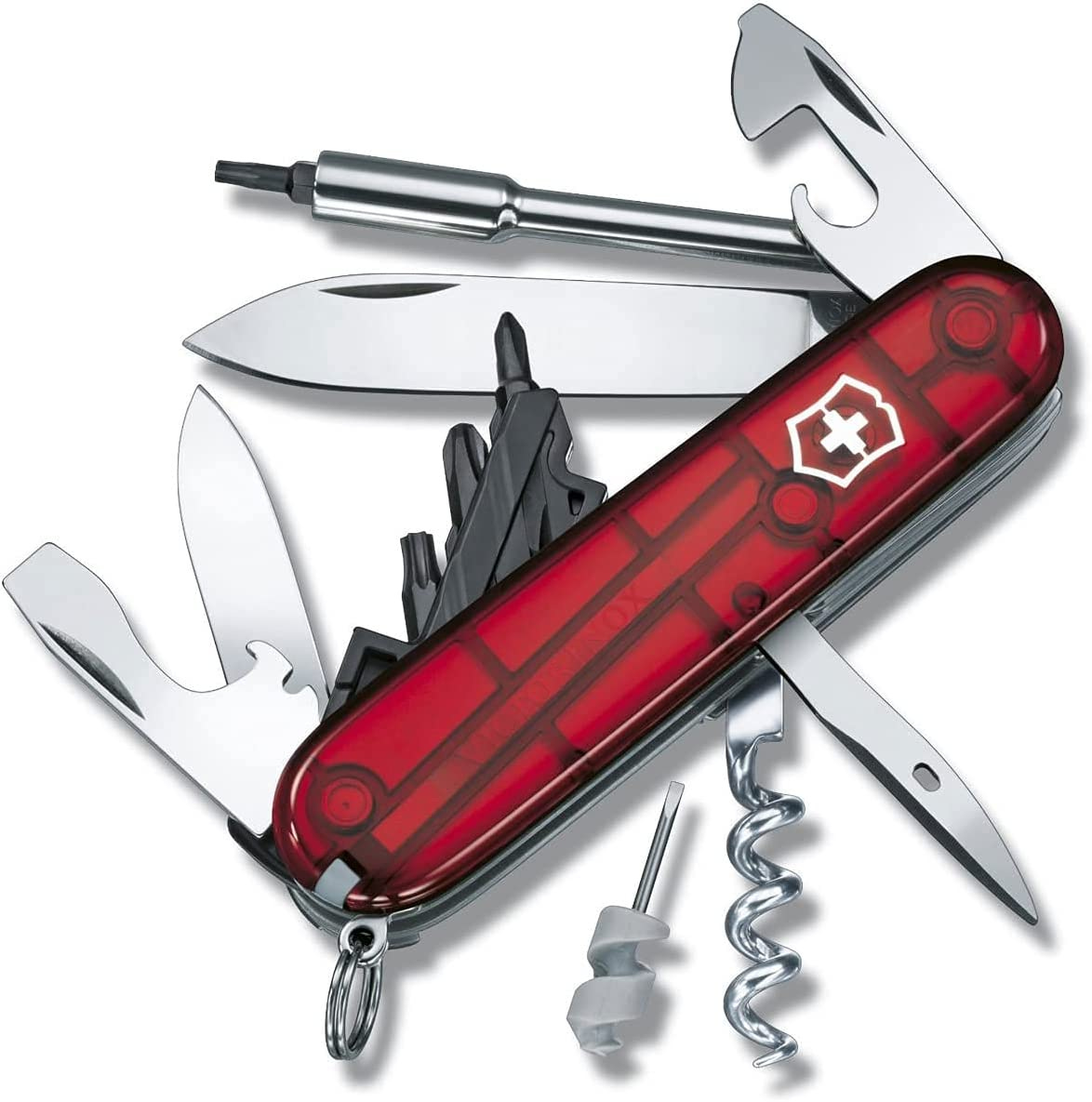 Pocket-friendly tech tool
Swiss Army Victorinox CyberTool 29
I've tried a fair number of pocket knife and combination tools: Gerber, Leatherman, Victorinox, Wenger, and others. The quality and versatility of these tools are quite amazing. I own both versions of the Husky 8-in-1, which are excellent when you have a workspace or are able to carry them in a pack, but not so good to carry in your pocket. I used to work on servers but have been promoted to management, and now don't do as much hands-on work as I once did, but still like to be prepared. For day-to-day use, I want something that fits easily into my pocket, has a small enough profile to work in confined spaces for light-duty computer repairs and other minor jobs. I've found the Swiss Army Victorinox CyberTool 29 to be the best compromise.
It has a nice long 5mm driver that uses four double-ended bits, including my favorite Phillips #2, two smaller Phillips bits, a straight bit, three Torx drivers (#8, #10, #15), and a 4mm hex bit. It also includes the classic straight-blade screwdriver, can opener, awl, two knife blades, corkscrew (yes, I use it fairly regularly!) and a tiny screwdriver ingenuously tucked in the corkscrew. I really like that the straight-blade screwdriver and Phillips driver are at opposite ends. Having the two screwdrivers open at the same time often makes the task go quicker. — Rurik Spence
---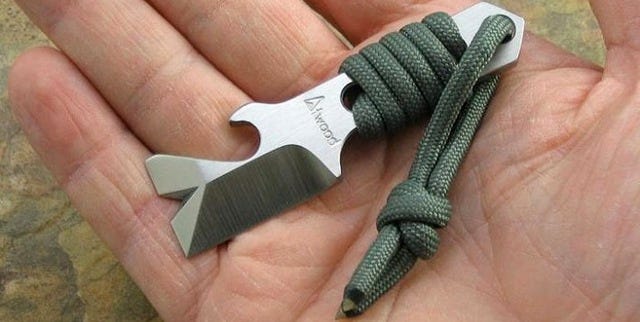 Keychain-size, steel pocket utensils
The beauty of these tools is they feel like a fetish item in your hand and, due to their size, you can always have them with you. They're handmade by Peter Atwood and have incredible strength because he uses a specialty stainless steel made via a powder metallurgy process ("The powder is compressed under significant force to a homogenous, solid state and the steel is rolled to required stock size. Molecules are uniform, inclusions of impurities are insignificant").
Both of my EDC knives — a Swiss Army Cybertool and a SOG Multi Tool — have slightly bent tips on the main blades because I tried to open or pry something I shouldn't have. That will never happen with the Mini Son of Prything I carry in my pocket or my Prybaby. The trend in tools is to include more and more features. An Atwood piece – and there are a variety of them worth checking out — is generally designed to do a couple of things really well, and it does: open a package, pull a nail, cut some tape, strip a wire, etc. There are obviously other discovered tasks — like propping up a new power supply in my computer while I get a couple of screws in — but it's calling on that intended purpose that is most gratifying. — Greg Needham
---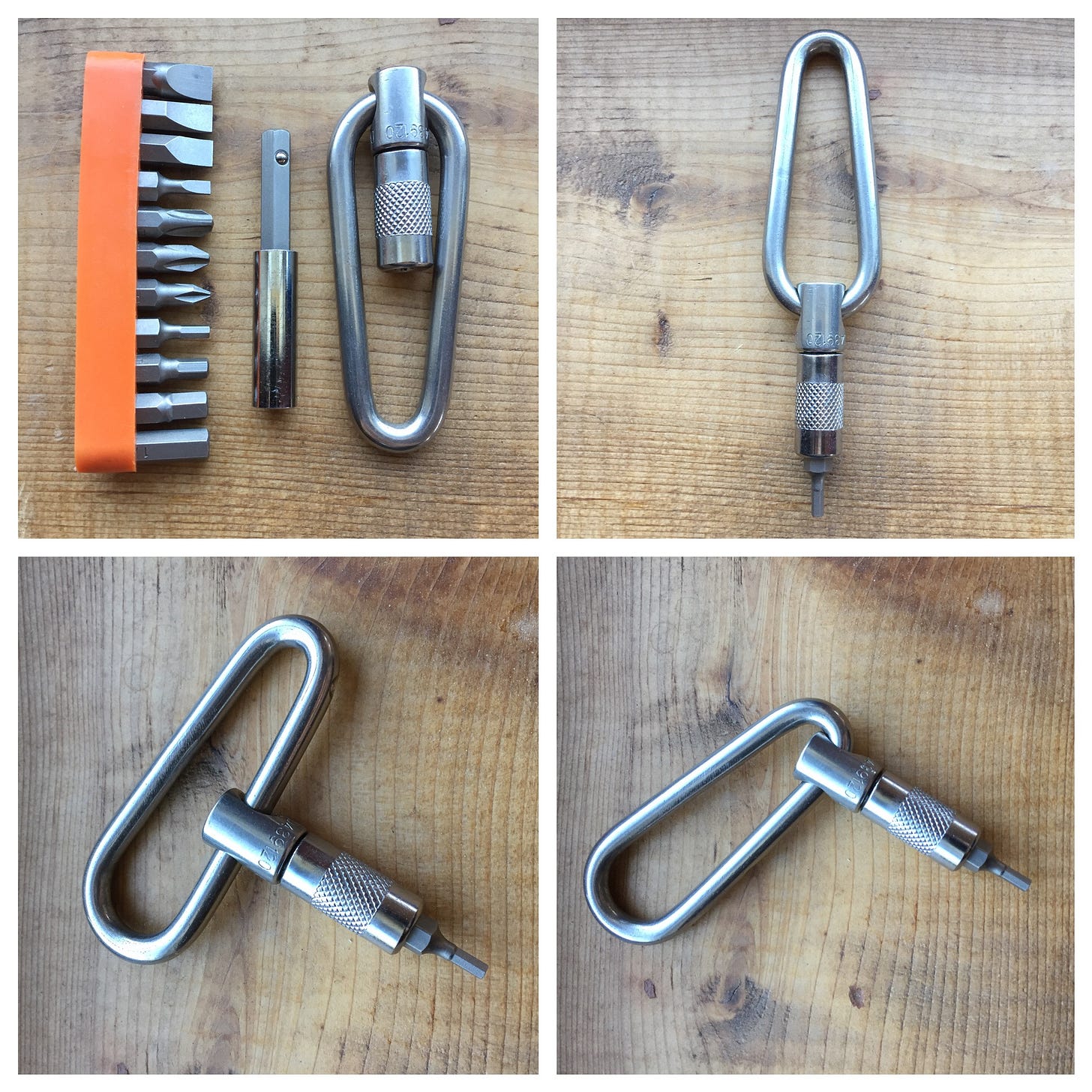 Pocket-sized driver/Allen set
Doc Allen's VersaTool, docallensversatool.com
When I am wearing my 5.11 tactical cargo pants, this pocket- sized screwdriver/Allen-wrench with interchangeable bits always goes in the right-hand cargo pocket. I'll often use the screwdriver of my Leatherman several times a day, but the VersaTool does a better job due to the interchangeable bits (better fit to the screws). Also, the handle can be adjusted to provide additional leverage or to fit tight spots. To get greater torque, you just slide the handle into "T" or "L" configurations. Recently, I used it to reinstall a bathroom cabinet door that the kids somehow managed to detach. My kids are good at dismantling things, so having this on hand saves time and allows me to complete repairs immediately without having to remember to return to them later. In one weekend, I also managed to complete several repairs on my truck without having to grab the tool box. Interestingly, the hex adapter will disconnect and the VersTool will then accept any 1/4″ socket so that it can be used as a nut driver. I do not have enough room left in my pockets for a set of 1/4″ sockets, but I plan on buying a couple more VersaTools, one of which I'll be dropping in my briefcase along with a spare socket set. — John Rigby
02/20/23