Tools for Possibilities: issue no. 21
Once a week we'll send out a page from Cool Tools: A Catalog of Possibilities. The tools might be outdated or obsolete, but the possibilities they inspire are new. Sign up here to get Tools for Possibilities a week early in your inbox.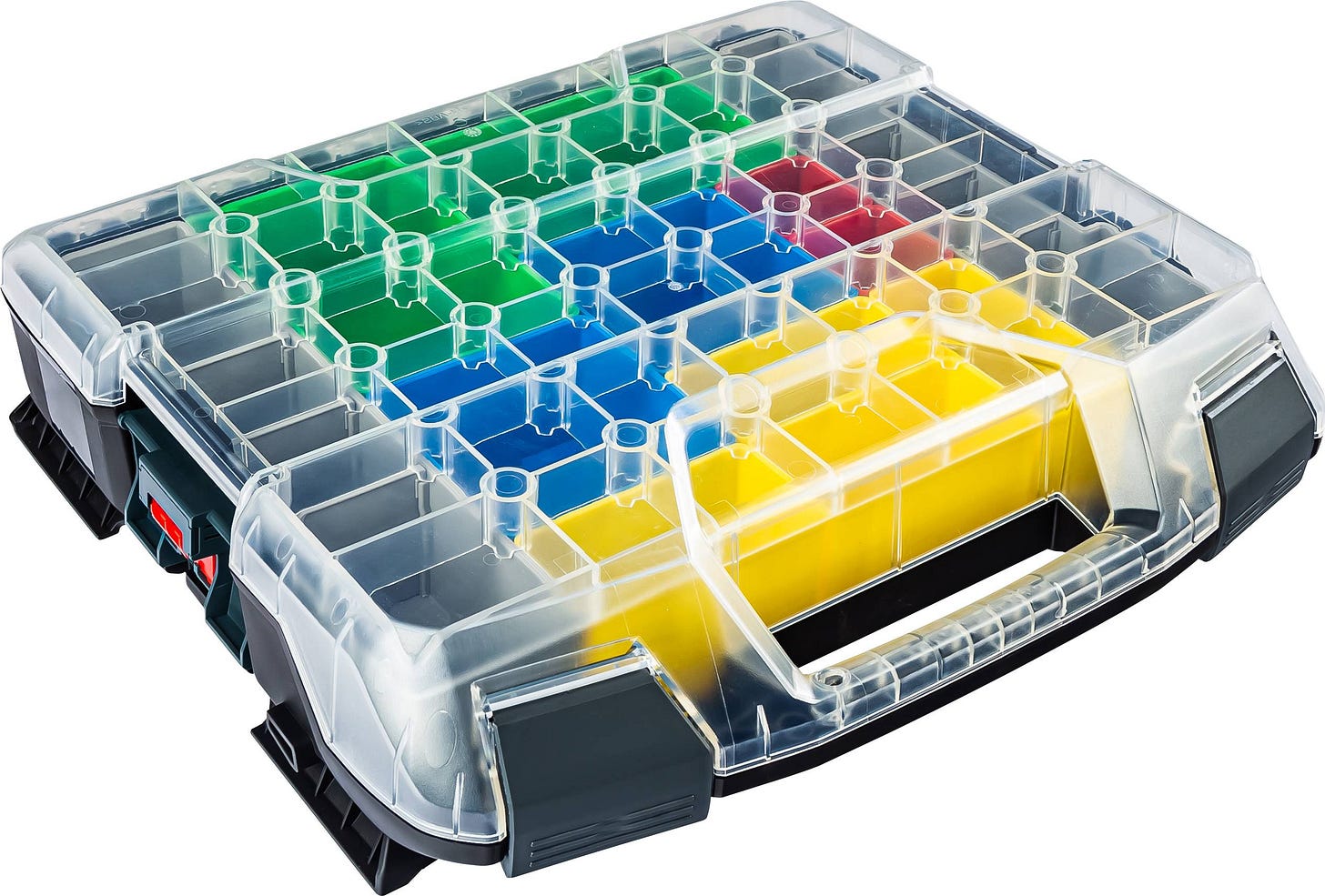 Ultimate smart-part organizer
This is the ultimate sorting box system for small parts. I have a full hardware store's worth of stuff in my boxes mounted in a rack. Each drawer slips completely out of the rack. The top is clear so you can see what is inside of it, which I love. It's got compartments, but they're all self-registering in the bottom, so they are modular which means you can easily mix and match and rearrange them. They come in all different sizes and colors. Because of the clever design, the inserts are separated from each other, so nothing cross-pollinates.
You can pick up the case by the handle and carry it vertically without fear of the contents spilling inside. Lastly, one of the most difficult things about sorting boxes is that you need to bring them over to your work. But with the Sortimo, you merely lift out the handy compartment with the needed parts and bring that over to your bench and then take it back. It's really brilliant. The boxes are kind of spendy; A tray with inserts is about $60. But I'll have these for the rest of my life. I've never had one of these fail.
They are not so easy to find. Sortimo is a German company that actually builds these tool systems for ambulances and work vehicles in Europe. They have one US distributor who really hasn't worked very hard to get the word out. But I am constantly raving about them. — Adam Savage
This is a German product with an old-world shopping interface. You can't order directly online. You can download a PDF catalog –without prices. You select what you think you want and call the US distributor, who gives you a quote for your system. Most of their customers are companies who are outfitting fleets of trucks or other service vehicles. In fact, they have very cool rigs to hold their trays in different vehicles. — KK
---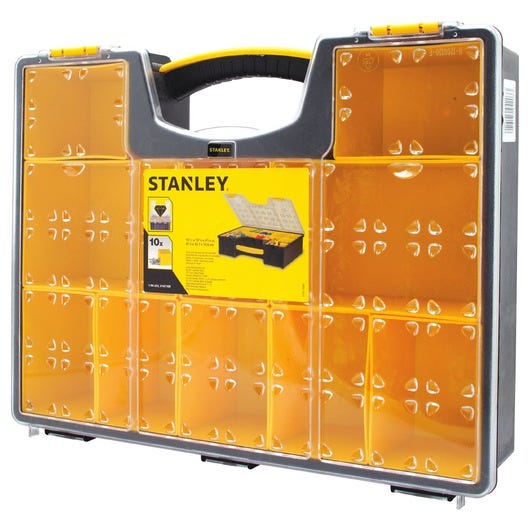 Affordable parts organizer
A cheaper alternative to the expensive and hard to find Sortimo are these Stanley Organizers. I bought a dozen of them for the same price as two Sortimos. They are sturdy and handy — and have most of the advantages of Sortimo's compartments. —KK
My favorite compartmented organizer is the Stanley 25-Removable Compartment Professional Organizer. The lid is clear but doesn't seem brittle, and the compartments are removable (nice if you want to grab one or two instead of the whole thing). Matching this, but deeper and with larger compartments, is the Stanley 10-Compartment Deep Professional Organizer, great for larger bolts and nuts.
Harbor Freight has a similar line – which I was about to say, isn't that much cheaper, but turns out, on sale it's about half as much. HF's version is a little deeper, meaning the two are not interchangeable – you can stick a Stanley compartment in the HF, but not vice versa. I use a flat file cabinet for tool storage (totally affordable at local used office furniture resellers, keep your eyes peeled) and the difference in height means Stanley just barely fits without scraping, where the HF causes the drawer to bind a bit.
Both systems stack well on one another. The other thing I like about the HF is that they have a half-sized model that still stacks well (one full sized organizer will stack fine on two half-sized placed next to each other). The trade-off with removable compartments is some flexibility. For longer bolts or drill bits, I remove two or more compartments in a row and set them in the negative space created. The other plastic bins (held in place by ridges on the lid) keep this space in one place.
Both types have handles that allow you to carry them, and the hinges, while plastic, have proven robust in use. — Taylor Bryant
---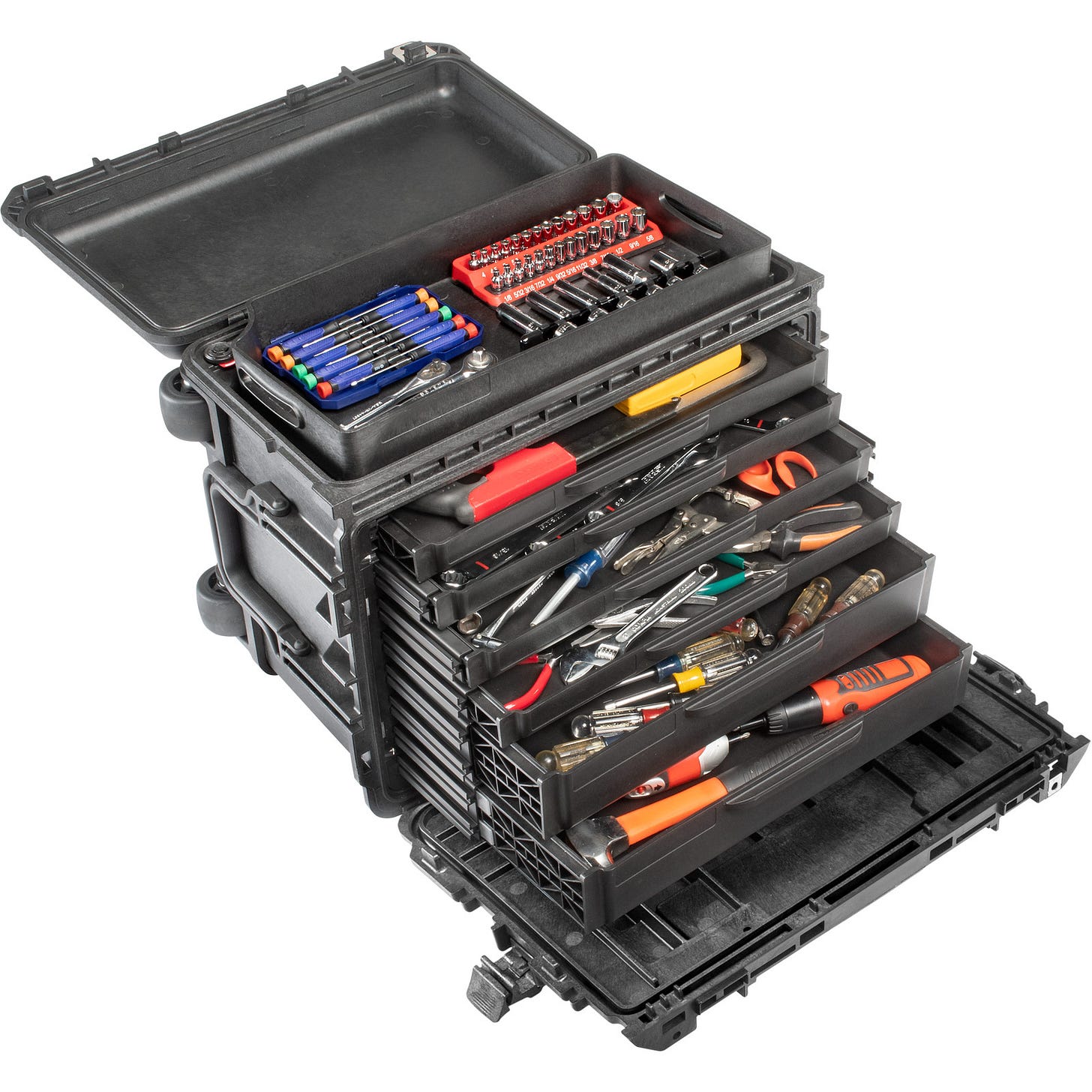 Mobile tool chest
Before I decided to purchase this Pelican case, I did check out some other options. One that I considered was the Stanley FatMax 4-in-1 Mobile Work Station, but it isn't waterproof and doesn't seem as durable as the Pelican. While the Pelican tool chest is pricier than most of its competition, it has several features that have made it well worth the extra cost.
First off, it's virtually indestructible. No matter how rough I am with it or how often it gets banged up, it has not been damaged. The same is true, of course, for the tools tucked away safely inside. Secondly, I live in Southern Louisiana and our weather is often humid and wet; like all Pelican cases, this one's watertight and it ensures that my tools are kept safe from moisture and corrosion. The few times I've left the chest in the back of my truck in the rain everything inside the case stayed as dry as can be.
A variety of drawer configurations are available, including custom-made, and the drawers even extract for on-site mobility. This case isn't light — about 40 pounds without tools — however, the trolley handle and wheel system make it possible for me to move it around easily on my own. — Chris Catalanotto
---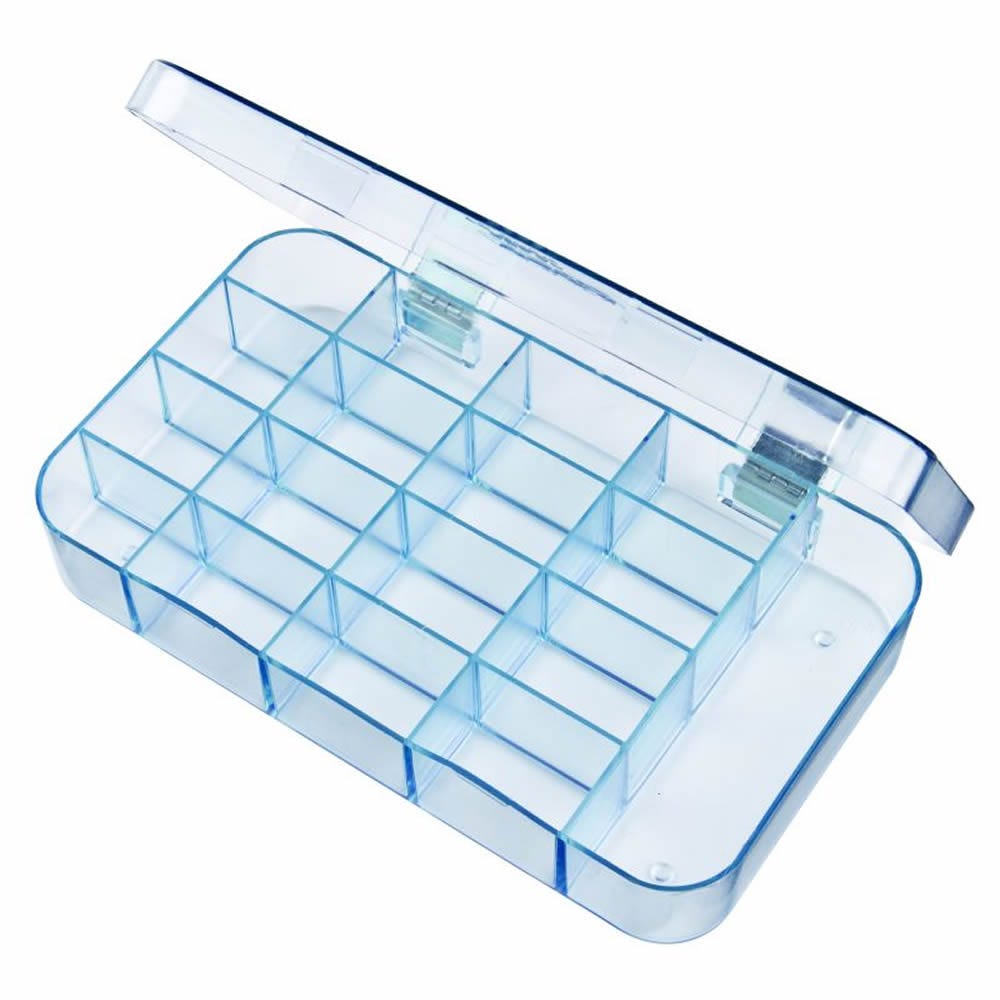 Long life plastic boxes
Mighty Tuff Compartmented Boxes, Flambeau
Small "tackle boxes" are well known to all, used far beyond fishing purposes. Also well known is how short their lifespans are, their plastic cracking or even shattering far sooner than we ever hope. Winter is death to these things.
It's the material, right? Over 20 years ago, I got a small Mighty Tuff box to carry fuses (for telecom work). I've still got it, and it's intact. A little yellower than it was new, but still clear and undamaged. I've got a lot more of them now, all kicking along nicely. They're simple, reliable and do their jobs as expected.
Can't expect more from a Cool Tool than that. — Wayne Ruffner
---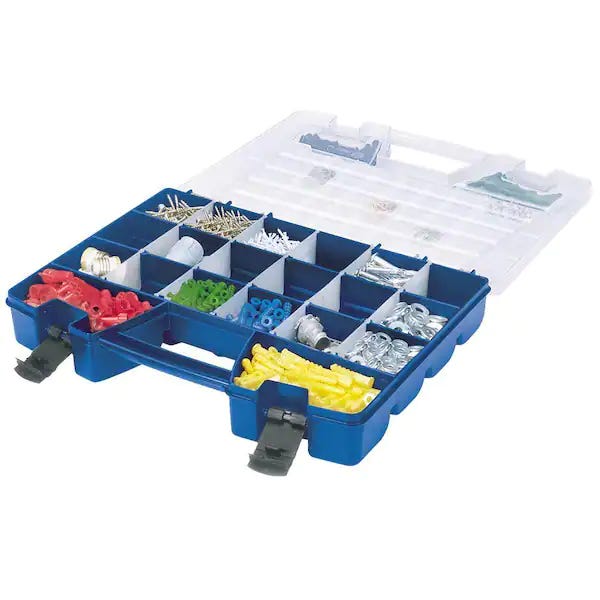 Curved-bottom organizer
Working in industrial design, I constantly acquire small sets of parts to use for multiple clients and projects. I've tried using a variety of translucent plastic boxes to contain and organize these parts, but they've been flawed in a number of ways: the parts are difficult to pick out with your fingers; the small pieces migrate from compartment to compartment; and finally, the latches break.
I think Akro-Mils has solved all of these problems with their cases. The latches span the entire front side of the organizer, work well, and don't seem to break. The bottom of each compartment is curved on at least two sides to allow picking up those 0-80 screws, and the top has ridges that surround each divider to make it much less likely for the parts to jump out of their compartments. The two Akro-Mils organizers I have been using are the small (05- 705) and the large (05-905). There's a medium available, too. I think I paid $4 and $7, respectively, which is about the same price as products with none of these features or durability. — Arthur Carr
02/13/23