Kitchen
OXO Good Grips Smooth Edge Can Opener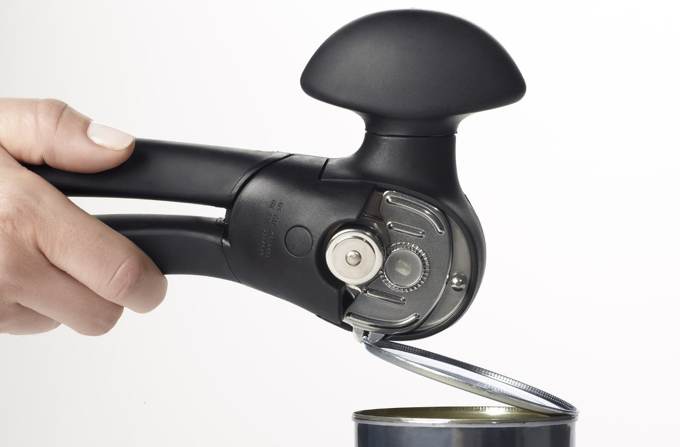 Cuts lids from the side, not the top, eliminating jagged edges
Our family has been looking for a decent can opener for years. Typical top opening can openers generally are made poorly and they all work the same regardless of price. Invariably a new opener would stop working well after a few weeks of use (if it worked well at all) and we would have to get a new one.
My wife decided to buy me a can opener for Christmas. Cruising through the local grocery store before Christmas she spotted the OXO Good Grips Smooth Edge Can Opener and she snapped it up.
I am so happy that she did! I've been using it almost daily since Christmas with no problems. The beauty of this type of opener is that it doesn't cut the top of the can open, instead it does something much cooler. OXO's description on their site says that the opener cuts on the side of the can, right below the top, but that's not actually true. What it really does is "de-seam" the can, separating the top from the rest of the can. There is no jagged opening that one could cut themselves on, the opening is smooth with no sharp edges, making it kid and pet safe (ever had a toddler or a pet get into the recycle bin?).
Operationally it works similarly to a regular can opener. You clamp it to the top of the can by squeezing the handles together with one hand and turning a knob with the other to open the can. Unlike regular openers, there is one more step – removing the lid once you've cut around it. The OXO can opener has a small set of grips, looking much like a very tiny parrot's beak You use that tiny beak to grip the edge of the can's lid and pull with, separating the top from the rest of the can. The first time it was a little strange, but now it's second nature. The strength required to work the knob is also much less than the "old" style requires. It turns smoothly and doesn't "pop" off the can (another failing of other openers).
I think it is an exceptional cool tool. It's reasonably priced, works better than the alternatives, and is safer to boot (no jagged can edges)!
09/17/20
(This is a Cool Tools Favorite from 2015 — editors)