Kitchen
Oxo Good Grips Wooden Spoon Set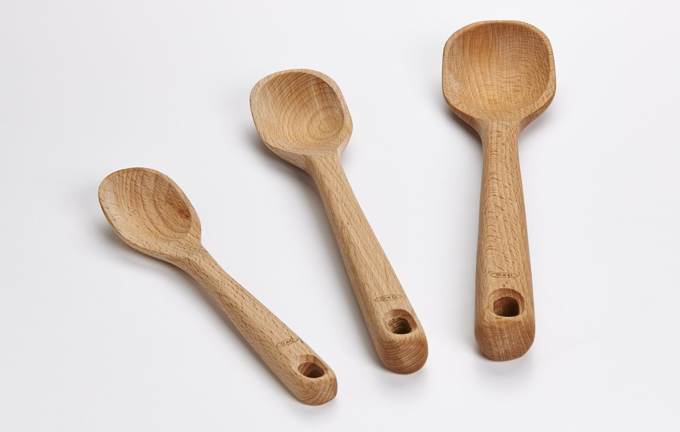 Spoons made from solid, one-piece beech wood
I grew up with wooden spoons in the kitchen but always the kind with skinny, round handles which are hard to hold firmly and feel like they could crack if I stirred something too thick. I got this Oxo set a few months ago and I'm never going back.
Thick, rounded rectangular handles give these the requisite "good grip." They are so comfortable to hold they make me angry I spent the first 50 years of my life using inferior wooden spoons.

The thickness only reduces slightly as the handle reaches the bowl so these spoons feel very substantial. When stirring a thick stew I never feel any "give" in the spoon. Even the small one has this satisfyingly sturdy feel.
When I first got them I didn't imagine I'd need all three but I've found they are perfect for the 3 different-sized pots I use: small, medium and large. The small one is also great for stirring veggies in my smaller frying pan. All three have generously-sized hanging holes so you won't need to struggle to get them through your hooks.
Note the image on Amazon makes them look closer together in size than they really are. The actual lengths of the spoons are 12 1/2″, 11″ and 8." The big one is *much* larger and thicker than the small one.
At the price, they're one of the most immediately satisfying upgrades you can make in your kitchen.
10/8/20
(This is a Cool Tools Favorite from 2016 — editors)
OXO Good Grips Wooden Spoon Set, 3-Piece