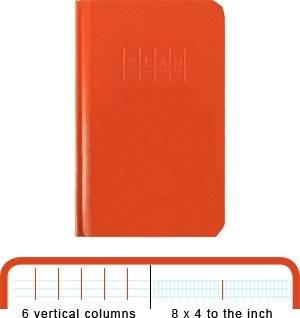 Notebook with extra stiff orange hardbound cover
I have been using these books for a little under a year at this point. I am somewhat particular about the notebooks I write and sketch in, and I had been looking for the perfect smallish notebook. I have used Moleskines, Rite in the Rain, and a few others and wasn't completely satisfied, mostly because they seemed to come apart on me. I suppose I am hard on these notebooks, and they spend a lot of time in studios, around wet clay, hot metal, and in and out of a bag that has god knows what else sitting in it.
The binding on these holds up incredibly well to abuse, this is the point of failure I have found in most other small format notebooks. The covers are thick and hardy, and a lovely shade of orange — easy to spot when you're hunting around a messy desk or studio.
The paper itself is graph lined on one side of the page and column ruled on the reverse. I find myself using these to draw, make notes, lists, and organize my thoughts. Being a bit disjointed in my thinking, having these rules has allowed me to group drawings, thoughts, and notes giving me better ability to parse back through my scribblings to find specific information.
The notebook has a bright orange hardbound cover. Manufacturer details: Ruled light blue with red vertical lines, 160 pages (80 sheets), Page size – 4 5/8″ W x 7 1/4″ H, Grid layout on the left – 6 vertical columns, Grid layout on the right – 8 x 4 to the inch.
The paper isn't super thick, but it holds up reasonably well. I write mostly in pencil in these, but it does OK with a felt-tipped pen as well, though you do see some bleed on the reverse of the page you're writing on. Elan says that the paper is 50% cotton and has some kind of water-resistant treatment on it — light rain beads well and can be wiped off without issue.
Being that these are designed for surveyors, these books also have curve tables, trig functions, and some basic conversions related to that field in the back. Admittedly most of these aren't useful to me often, but they're fun and an interesting thing to have on hand.
Overall I have been pleased with these, they haven't shed pages, and their bindings show no signs of loosening or falling apart. In the past, my Moleskines usually start coming apart after a couple of months of use. I appreciate that these provide me a standard format to archive and refer to my notes.
10/9/20
Elan Publishing Engineers Field Book Standard