Dwelling
Picture Frame And Mirror Hanging Assortment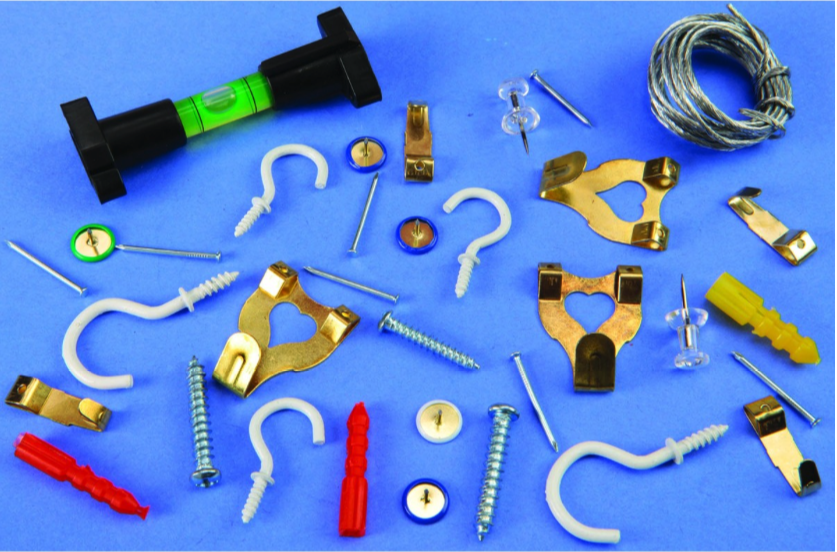 Everything you need to hang large and small pictures
This Storehouse picture/mirror hanging 200 piece assortment from Harbor Freight (SKU 67666) comes in handy around your house or apartment, especially for its low price of $3.79.
I bought one about t years ago and used most of the contents at our house, hanging a few clocks and about e pictures and a few pieces of artwork. I also used some to hang items for relatives. We recently moved into an apartment with no existing hangers. I grabbed one of these at our local Harbor Freight. My stepdaughter also moved into the same complex and asked if I had any nails that she could have to hang some pictures. I told her tackets instead, and I gave her plenty to use. The lease allows small tacks for things like posters and small fasteners for larger wall items. This kit is perfect for that, as the brackets are very sturdy with small thin nails that go in at a 45-degree angle for great holding power with minimal damage to the walls. It will be practically invisible if the brackets ever have to be removed.
The kit also includes drywall anchors and screws for going into looser wall materials like plaster. Thumbtacks are also provided for posters and thinner materials. If the item you want to hang has no mounting hardware on it, the kit comes with hooks to screw into the wall hanging and wire to mount it on the wall bracket.
The kit even includes a small level, so you can make sure that a new piece of art, picture, clock, dry erase board, etc. is level.
12/20/21