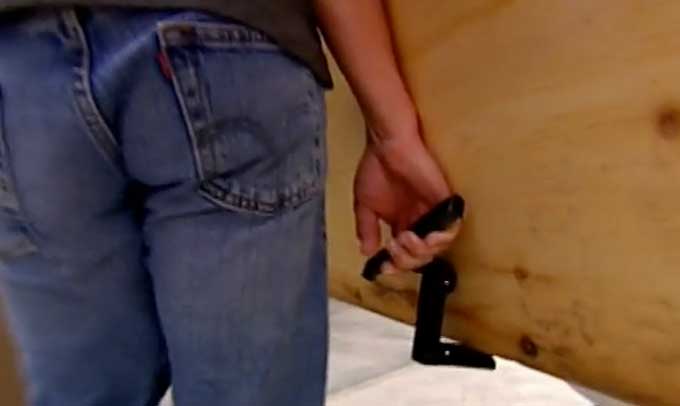 Lets one person carry a 4 x 8 sheet of plywood
As a single mom and homeowner, I often find myself needing to move some large/awkward/heavy item (such as a sheet of plywood), which is difficult to manage on my own. I cobbled together some interesting — but still awkward — ways of doing this….and then I found the Pocket Kart ($11). It's quite simple: a comfortable swivel handle attached to an L-shaped hook, with a little serif on the end to keep the items you're carrying from sliding off. You just lift the panel onto the hook (it stands up by itself so that isn't difficult), grab the handle, steady the top of the panel with your other hand, lift…and you can easily transport the panel where it needs to go, without stress, sweat, or splinters—and without needing to find a neighbor to help you.
The hook is about 2 inches wide, so you can carry multiple sheets at once if you've the strength and inclination. It's useful for all sorts of hard-to-carry items: rolls of wire fencing, hay bales, drywall, doors, corrugated panels; it also works well for paint cans and buckets, keeping those wire handles from digging into your hand, and can hold multiple filled plastic grocery bags at once. The handle swivels, so you can use it right- or left-handed, at whatever angle works best.
It folds up to fit in a pocket, purse, or toolbag (making an irregular triangle that's 5.25″ at its widest points, and about 1″ thick), or it can be hung on a nail or a pegboard. Don't forget to take it with you to the lumberyard — it'll make getting the sheets into your vehicle much simpler. I've had mine about 10 years, use it several times a month, and see no signs of wear; it's made of a tough nylon resin that will likely outlast the trump of doom. Next time you need to carry plywood by yourself, you'll wish you had one!
08/22/19
Diversified Tools Pocket Kart ($11)