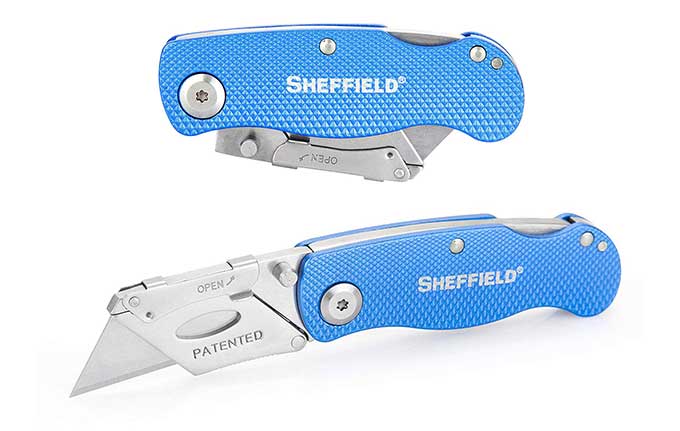 Utility knife with one-hand opening operation
I received the Sheffield 12113 Ultimate Lock Back Utility Knife as a gift almost 10 years ago and liked it so much that I bought one for my house and keep one in my car. The checkered handle is aluminum with a clip on the back to keep it secure in one's pocket.
I admit that the paint chips off the handle over time but it doesn't detract from the aesthetic for me. It feels sturdy and fits well in the hand with an overall length of six inches when unfolded and locked allowing one to grip it like a knife or move the hand closer to the blade for more precise cuts.
What I appreciate most about this tool is the design it employs to secure the standard replaceable blade. It's unique as far as I can tell with a two part locking mechanism for the blade which I prefer over a traditional retractable utility blade usually requiring one to unscrew the handle and replace the blade and put it back together.
This design makes swapping the blade quick while retaining a solid feel.
11/25/19
Sheffield 12113 Ultimate Lock Back Utility Knife ($8)