Media Tools
Sideclick Universal Remote for Roku and Fire TV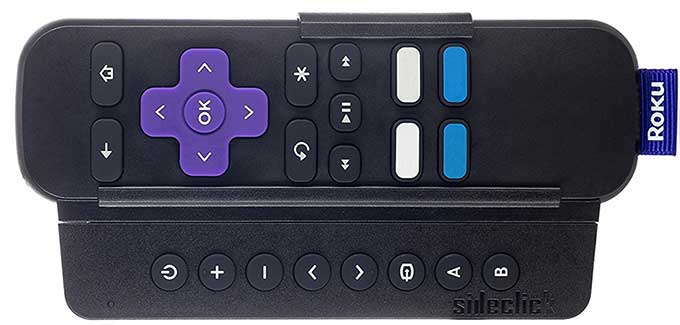 Universal remote attachment for streaming services
Streaming services are obviously the future of TV. Streaming boxing like Roku, Apple TV, and Amazon's FireTV generally make this a pretty great experience, with one exception: the remotes. Don't get me wrong, the interface to control their actual device is fine, but none of them have any ability to control the actual TV. So unless you have replaced all your TV's with "smart" TV's with great streaming built it (the exception), you are stuck using two remotes everytime you want to stream a show: One to turn the TV on/off, adjust the inputs, and control the volume and another to control the show you are streaming.
I HATE searching for remotes, and requiring me to have two every time I watch TV frustrates me. Enter the Sideclick for Roku ($30). So simple, it's ridiculous. It's a separate remote that attaches to the side of your streaming remote in a way that makes them seem like one. It does all the things you want your TV remote to do: control power, inputs, volume, and channels. It even has a couple of customizable buttons.
Programming it is the simplest I've ever seen. You push a button sequence on the Sideclick, point the old remote at the Sideclick, push the button you want to copy (like Volume Up), then push the corresponding button on the Sideclick. Repeat a few times and you're done. No codes or guessing manufacturers. Just click, point, and copy.
In actuality, all the buttons are customizable. So, in my home theater, the power button controls the projector, and the volume and input buttons controls the receiver. I find this a much simpler and more elegant solution than getting a fully programable remote that more mere mortals struggle to understand.
The only downside is the cost. At $30, sometimes the Sideclick can cost as much as a whole low-end streaming device. But, when I factor into the stress saving when trying to relax and the over money saved by streaming, it's an easy purchase. The Sideclick is one of my favorite new things, I currently have two that have worked perfectly for months, one for an Amazon Fire TV and one for a Roku. Each comes with cradles that fit multiple models, and they also make models that pairs with an Apple TV, Google Nexus, and MiBox.
07/3/18